Adelaide is often overshadowed by Australia's larger capital cities. But when it comes to golf it certainly packs a punch – and Kooyonga Golf Club continues to present one of the finest courses in the nation.
For all the skill that's required to play golf successfully, there will always be the exciting – and sometimes frustrating – concept of luck; the notion that good shots can be punished, and bad shots can be rewarded. Some golf courses successfully capture and embrace that side of the game better than others – and Kooyonga Golf Club's very creation was a fortunate stroke of serendipity.
The year was 1922. The Great War had ended and the Great Depression was still seven years away. Herbert "Cargie" Rymill was on his way home from Adelaide's CBD to Henley Beach before his journey was interrupted by a train strike. Enter Lady Luck.
Rymill had no choice but to take an alternative route via tram – which just so happened to pass by the parcel of land known as "May's Paddock".
The vast landscape stole his attention, so when he noticed a 'for sale' sign he decided to disembark the tram and take a closer look. The 52-year-old climbed over the fence and walked across the sizeable property. He noted the quality of the sandy soil and the natural bumps and hollows and knew he had found something special: it was the perfect canvas for a golf course.
The approach to the 4th green is best made from the right half of the fairway. PHOTO: Brendan James.
After purchasing the land and establishing the Kooyonga Golf Club – with the help of numerous acquaintances – Rymill had designed and built nine holes within 12 months, which opened for play in July, 1923. The remaining stretch of holes were completed in 1924 and Kooyonga (which Rymill mistakenly believed to be an Aboriginal term for 'plenty sand, plenty water') was up and running.
Eighty-four years have since gone by but the layout has stood the test of time, recently – and very successfully – hosting the 2018 Women's Australian Open won by South Korea's Jin Young Ko.
The design firm currently employed by Kooyonga (Crafter + Mogford Golf Strategies) understands and respects the origins of the course, and has essentially been asked to identify and enhance the unique landscape components of the property.
"The main task has been the creation and implementation of a Landscape Enhancement Plan (LEP) for the course," said Neil Crafter, who grew up caddying and playing at Kooyonga. "This has involved selected tree and bush removals to widen playing corridors and create vistas, along with the creation of extensive fescue and native grass areas across the course."
The scheme of bunkers cutting into the right of the opening fairway are best avoided. PHOTO: Brendan James.
The recent removal of trees and scrub has exposed natural sandy areas and has allowed the layout to breathe better – but it has also helped the course reach even greater heights in regards to conditioning. The Lockleys club, which has long been renowned for the quality of its playing surfaces, has rarely presented better and will only continue to improve under the LEP in place.
"The land is undulating without being hilly and its sand base allows the preparation of the high quality and well-draining turf surfaces that Kooyonga has been renowned for over many decades," Crafter said.
The team is also completing a greens replacement program, which has seen the reconstruction of one green per year and will continue until the Women's Open returns in 2021.
"Some of the greens that have been rebuilt in recent years have had their contours retained, with some subtly modified, while others have been totally redesigned," Crafter said.
One such example comes at the 355-metre 4th hole – where the green has been slightly enlarged and reshaped to become more receptive to balls that used to frequently run off into bunkers.
Most of the holes on the front nine at Kooyonga cover the more interesting, undulating terrain. PHOTO: Brendan James
Crafter and Mogford were responsible for the clearing of native grasses at the 19th hole, which is located between the 2nd and 11th holes and compliments its fellow par-3s very nicely. Indeed, the one-shotters at Kooyonga are highly revered and deservingly so. Each hole possesses its own unique character and demands different shots to be played – and that's a very pleasing and deliberate theme that will continue throughout your round thanks to Rymill.
"The course constantly challenges the golfer to play their best shots – and a wide range of shots are needed to play Kooyonga well," Crafter said.
The 14th is considered the track's signature hole and is one of South Australia's most celebrated par-3s. The 145-metre challenge presents players with an elevated green – which is guarded by deep bunkers and is subjected to the elements – and a tee box encapsulated by trees, meaning club selection becomes very difficult. Anything long will run down the steep slope behind the putting surface, while any other missed shot will generally find sand.
"The course constantly challenges the golfer to play their best shots – and a wide range of shots are needed to play Kooyonga well." – Neil Crafter.
Speaking of bunkers, Crafter and Mogford have reshaped numerous traps around the course and built some of their own at two of the par-5s (1st and 16th holes).
"The bunkering has been unified in terms of its character and appearance, while a number of fairway bunkers have been added to selected holes," Crafter said.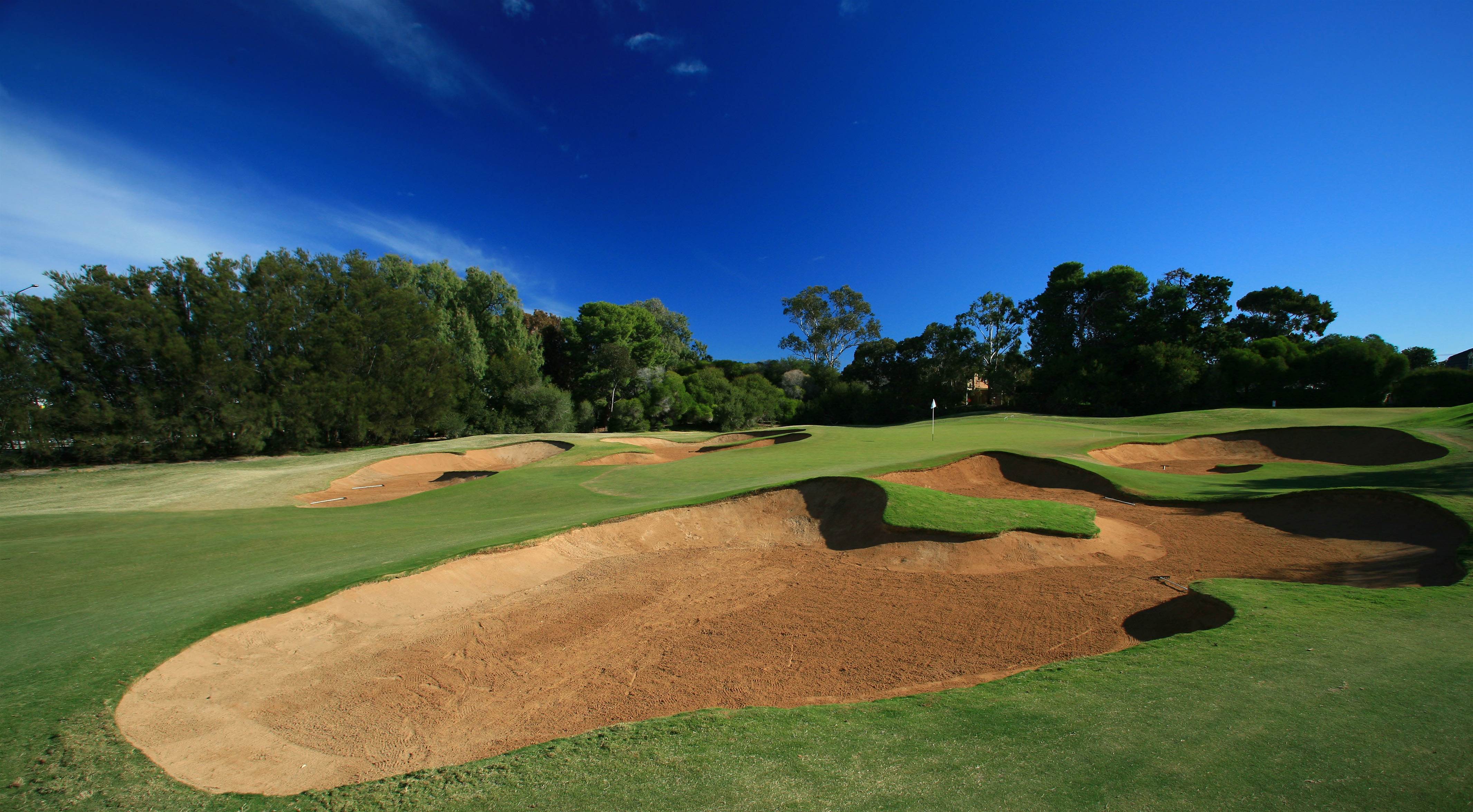 The bunkering is a memorable feature of the 179-metre par-3 3rd hole. PHOTO: Brendan James.
That theme of strengthening the golf course is one that can be found the world over as the ball continues to fly further and further. But Crafter and Mogford – together with those in charge at Kooyonga – clearly value and want to protect the history of the club.
"It was very well routed by its founder and original architect Cargie Rymill and the course today closely follows his original routing," Crafter said.
The train strike that steered Rymill towards the vacant land on which Kooyonga Golf Club now stands was certainly very fortuitous. It was a series of events that ultimately led to the creation of one of the nation's finest golf courses. But the reason why Kooyonga is so well entrenched within Australia's Top-100 Courses at No.25 has nothing to do with luck – rather, the skill and dedication required to conserve its original design.
THE COURSE
LOCATION: May Terrace, Lockleys, South Australia, 5032.
CONTACT: (08) 8352 5444; (08) 8443 6162 (pro shop).
WEBSITE: www.kooyongagolf.com.au
DESIGNERS: Herbert L. Rymill (1924); Martin Hawtree (2008); Neil Crafter and Paul Mogford (ongoing).
COURSE SUPERINTENDENT: Richard James.
PGA PROFESSIONALS: John Corbett, Susie Mathews and Duard Nel.
SLOPE RATINGS: 137 (Men's black tees), 136 (Men's blue tees), 134 (Men's white tees); 137 (Women's red tees), 130 (Women's yellow tees).
PLAYING SURFACES: Santa Ana couch (fairways); Bentgrass (greens).
GREEN FEES: $220 (18 holes for Golflink card holders).
THE CLUB
MEMBERSHIPS: Kooyonga offers a wide range of memberships to allow everyone the opportunity to access the club. Junior memberships do not have an entrance fee and incur an annual subscription fee of $1,184.70. Category two memberships cost $3,159.20 per year with a $6,800 entrance fee, while category one memberships cost $3,949 per year with an $8,500 entrance fee. For more information, visit the website: www.kooyongagolf.com.au
RECIPROCAL CLUBS: ACT (Royal Canberra GC); NSW (The Australian GC, Concord GC, Killara GC); QLD (The Brisbane Golf Club); TAS (Launceston GC); VIC (Commonwealth GC, Kingston Heath GC, Metropolitan GC; WA (Cottesloe GC, Lake Karrinyup CC).
WEDDINGS & CORPORATE GOLF: From intimate gatherings to celebrations of grand proportions, Kooyonga creates the perfect backdrop for any occasion. Its magnificent views and superb cuisine combine with the modern clubhouse and experienced events team to ensure your function or wedding is completely spectacular.
Packages booked during winter, 2018 start at $99 per person. Contact the Clubhouse Operations Manager, Anna Fontaine, for further details: (08) 8352 5444 or anna@kooyongagolf.com.au
© Golf Australia. All rights reserved.