It would have been easy to assume that following on from Golf Australia's decision to postpone the Australian Open until 2021, the Australian PGA would follow suit with its biggest event.
However, a decision is yet to be made whether the tournament will take place at Royal Queensland in December 2020 or early next year.
An announcement is expected within the next week from the organisation which also oversees our local Tour.
"We are still working through everything that we can in order to try and conduct that first week of December. There is a lot to work through and a lot that keeps changing, but all stakeholders would prefer if we can that we go ahead," Tournaments Director for the PGA Tour of Australasia Nick Dastey told Golf Australia magazine this week.
"I would expect within the next week or so we will know for sure whether we are pushing on with December or if we have to look at alternative dates."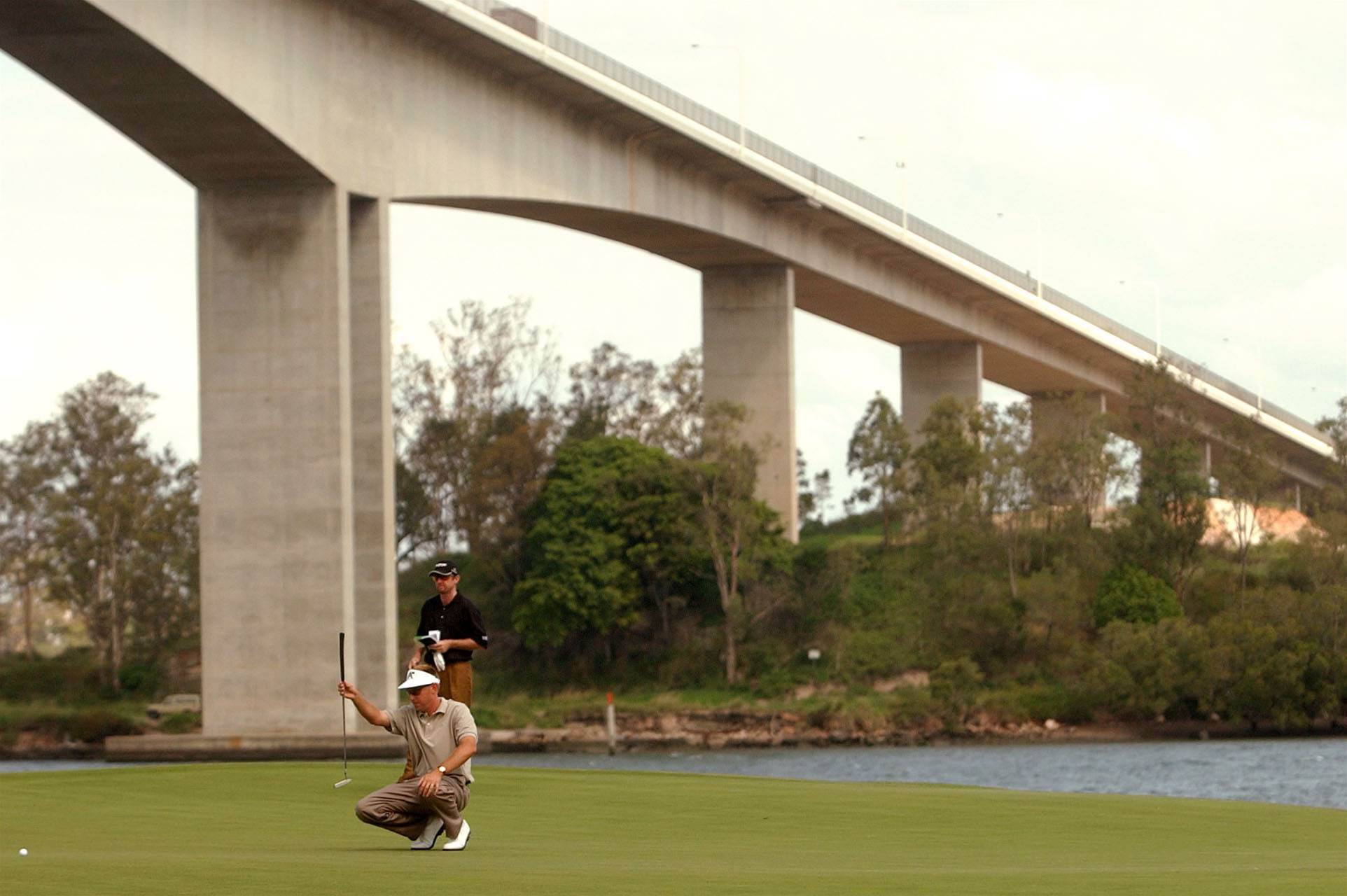 The Australian PGA Championship is set to return to Royal Queensland for the first time since Robert Allenby won back-to-back titles in 2000 and 2001. PHOTO: Darren England/ALLSPORT.
Although the shift of the Australian Open took into consideration numerous factors, not the least that the event was to be played in Victoria where serious COVID-19 restrictions remain in place, playing without crowds played a significant role in the decision as then operations boss for Golf Australia Simon Brookhouse told this publication in May.
"For us, an Aussie Open in November with no crowds and borders shut, we have to assess the financial viability of that with our partners," Brookhouse said. "One of the things that is very different to us and the PGA Tour, is the benefit of the PGA Tour getting so much funding via TV rights to us a lot of the funding for these events come from ticket sales, corporate hospitality packages at the event and there is an expectation from our commercial partners to have those hospitality opportunities, and if there is no crowd well I imagine that would be impossible."
However, as a European Tour event with substantially different broadcast rights in place, the lack of crowds on site at Royal Queensland, while less than ideal, is not as significant a factor for the Australian PGA.
"As we are watching with golf around the world at the moment, from a European Tour point of view, seeing what they have been able to do (without crowds) over there and same for the PGA Tour, "Dastey said. "In regards to the Australian PGA, a big part of it is being part of the European Tour and it is broadcast throughout Europe through their platforms, so it potentially has less impact than what Golf Australia felt from an Australian Open point of view and the key partners involved, including the Victorian government."
"Definitely the majority of feedback from players and managers is no doubt that from a PGA Tour player point of view, late November-December seems to be more attractive to them than February." - PGA of Australia's Nick Dastey.
What is more likely to have an impact on the decision to push ahead with a December event or switch to most likely February when a rumoured run of three to four large tournaments will take place for the men in Australia, is the players available at certain times of the year.
Quarantine periods remain a concern, so too does the postponed Masters being played in November, however one need not be Nostradamus to suggest the busy PGA Tour schedule early in the year may preclude some of our biggest names returning to our shores in February.
"Definitely the majority of feedback from players and managers is no doubt that from a PGA Tour player point of view, late November-December seems to be more attractive to them than February," Dastey said.
"Once you go into February it's a pretty strong period on the PGA Tour. So, for any of those guys one it is towards the start of the year, there is some events with some real history and they are really preparing for that first week in April and The Masters.
"I think there is no doubt that it will be a little bit more challenging in February to get guys to come home for one or two weeks, when they are right into their US schedule, but on the flipside from a European Tour point of view, if we were to be in February and potentially back-to-back with the Vic Open, then it becomes a lot more enticing to get a really strong field out. But hard from a Cam (Smith) or an Adam (Scott) point of view."
Despite the difficulty of enticing the defending champions of the past three years back in February, given the PGA of Australia itself is based in Victoria and their flagship event is to be played in Queensland, most would suggest that the coming announcement will see the biggest professional tournaments in this country jostling for space in a small window early next year.
However, with a variety of stakeholders involved, uncertainty surrounding the world as a whole in relation to the pandemic, nothing is being left to chance, with preparations going ahead as close to normal as they can be for the December date originally set down for the Australian PGA.
"We have had staff on the ground and we are doing everything we would normally do, albeit improvising with a couple of things because we don't all have the access to be able to fly and go interstate but we are doing everything we are normally doing to be able to hold the event," Dastey said.
"And by the same token, a lot of the additional things we have to do from a COVID safety point of view, are being done. So, whether that is put in place to utilise in December or whether it is put in place to use a couple of months later, it is all important work that needs to happen no matter when the tournament is held."
© Golf Australia. All rights reserved.