Phil Mickelson has turned back time and now heads into the weekend as equal leader of the 103rd PGA Championship alongside South African Louis Oosthuizen.
While Phil says he's just having fun, most of his pursuers have a different take on proceedings. Here's what some players said after the second round.
PHIL MICKELSON (70-69, EQUAL LEADER)
"I'm having a lot of fun, and to play well, to know I'm playing well heading into the weekend, to be in contention, to have a good opportunity, I'm having a blast. I'm excited for the weekend. This has been a lot of fun."
LOUIS OOSTHUIZEN (71-68, EQUAL LEADER)
"Drove it as good as I can drive it, and ball-striking was pretty good with the irons today. With really windy conditions, you need that ball-striking to be on song. Probably gave myself, I don't know … I think I hit 14 or 13 greens around this golf course in today's conditions is pretty good.
"I am definitely comfortable playing in majors now than before. Hitting it well and knowing your game is there, it makes it a little less stress, but you still need to hit the shots and play in the moment and play well."
Rory McIlroy has a bit of work ahead over the weekend to move into contention. PHOTO: Getty Images.
RORY MCILROY (75-72, T40)
"I drove the ball much better, I hit the ball much better. So if I can keep doing that, just sort of try to keep the silly mistakes off the card, hopefully get out early when there's not as much wind, and try to post a good one."
PADRAIG HARRINGTON (71-73, T19)
"Unfortunately as you gain experience, you lose innocence. There is a sweet spot on the way up when you're gaining a bit of experience, and yet you have that innocence as you get older. Like myself and Phil (Mickelson)yeah, we have experience, but we have some scar tissue in there and we can overthink things at times.
"Phil works hard. I know I work hard at my game to try and be competitive at this level. I really want to be competitive with the young guys, and physically I am. Sometimes mentally not.
"I'm bullish about where I am and I'm sure Phil is, too. From watching from the outside with Phil, he's prepared to push no matter what. He's not here to finish … he's not here to make the cut. He's not here to finish … even 15th would be a disappointment. You know what? Even second would be a disappointment for Phil.
I'm a little bit like that, too. I have no interest … if you turned around to me this week and said to me now I'm going to finish 10th, I'd actually say no, because it doesn't do my career any good. It doesn't do Phil's any good. That might make it harder for us at times because we over-push and over-try because only winning is the only thing that will bring any satisfaction to myself or Phil."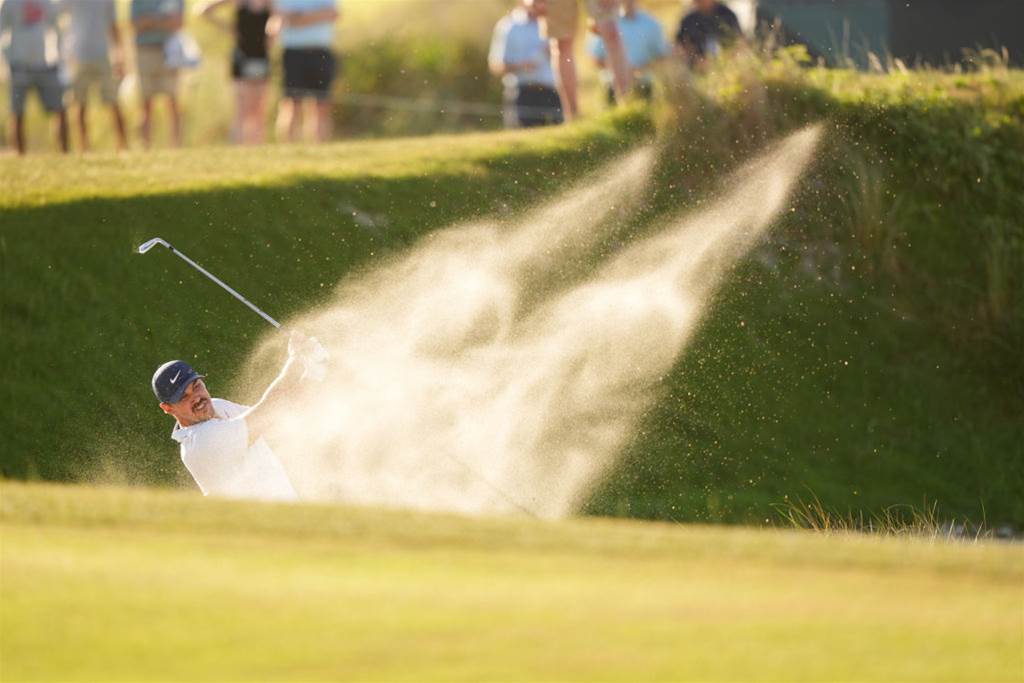 Brooks Koepka barely gave himself a pass mark despite shooting a second round 71. PHOTO: Getty Images.
BROOKS KOEPKA (69-71, 3)
When asked to grade his round....
"C-plus. I missed that short one (putt) on 4, missed a short one there again on 16. I thought I struck it great. I drove it a lot better. But it's tough to putt in this wind, man.
"Sometimes you're playing the wind, and sometimes you don't. The wind might take it a little bit, but you're also not trying to firm it, either, and have another three-footer coming back. I understand everybody else is probably going to miss a few short ones with this wind."
HIDEKI MATSUYAMA (73-68, T4)
"…from hole No. 5 until 12, you'd better make some birdies on those holes because those last four or five holes are very difficult.
"Being able to make birdies on those downwind holes makes it a whole lot easier because you're not under the pressure. You can lose a stroke here or there on the final holes."
Bryson DeChambeau is lurking four shots from the lead. PHOTO: Getty Images.
BRYSON DECHAMBEAU (72-71, T12)
"I think if I could put a good number up tomorrow, hold strong in the wind and shoot 2-, 3-under tomorrow, I'll be right there for Sunday.
"I'm just creeping up that leaderboard slowly but surely, and if I can do that like I did at Winged Foot, that's A-Ok with me."
LUCAS HERBERT (76-72, T51)
"Kind of a funny story with today. I turned up in some casual clothes to do some sort of warmups and whatnot, and I got to the golf course and realised I left my golf clothes at home. So I had my friend drive back and get them and bring them back. So I missed basically half of my warmup. And I got on the range straight back into the wind, and I think I hit about four 2-irons in a row over the left fence.
"So I FaceTimed my coach with like nine minutes till my tee time going, how do I fix this? There's something really, really wrong. How do I fix this? It was like, we just had a laugh because it can't get any worse. This is going to be a fun day. We're going to be shouting fore left a lot.
"And then all of a sudden I'm out there hitting – I really don't think I missed a shot through the first 13 holes. It was kind of funny really, that it sort of all came from that."
Victorian Lucas Herbert had a false start to his day but it didn't distract from a solid second round. PHOTO: Getty Images.
JASON DAY (74-75, T63)
"I feel really positive about my game. There's a lot of good signs out there. I just somehow just got to get over the putting part.
"It's not that I'm putting bad. I'm actually hitting good putts. It's that when I stand in there, I can't trust where I'm lining up because it feels like I'm aiming so far right, but I'm aiming straight. So when you get in there and you feel like you're cross-eyed, you can't trust the lines, and that's just the way it's been over the last year and a half.
"Even with the red putter, the Spider putter that I had, everything looked straight to me, but it was coming off left and I was aiming left. I've got to kind of figure that out. I think once I figure that out and get my putting back, then good play will come back."
Jason Day says he's hitting the ball well but his putting is out of whack. PHOTO: Getty Images.
IAN POULTER (74-70, T19)
"The first 13 holes you're just trying to put something in the bank. When you've got this wind, north-easterly wind, that closing five, in very slightly from the left, it's just not very easy. You're aware of that going out, the first few holes are kind of in, but they're relatively short. You can still kind of have a few chances going out. They turn downwind for the last few holes on that front nine, and the par-5 is super reachable, and you've got some opportunities with wedge in your hand.
"10, 11, play okay, providing you hit decent tee shots, and the last five holes have probably been shortened by 200 plus yards. So even with that – moving us forward that far, it's a brutally difficult finish. Straight in, very slightly at times just off the left, and you're aiming at targets which if you pull it very slightly, you're in the dunes, and if you cut it, you're wet or on the beach.
"It's intense. It's a long round of golf. There's a lot of waiting. Standing on the 17th tee, it was not the best wait, to be honest. It's not an easy hole as it is, but when you chuck a 15-minute wait in there and you're staring 3-iron or some form of a hybrid to that green, it's very difficult.
"To get in the house without spilling too much over those last five was okay."
CAMERON SMITH (72-73, T25)
"A couple more putts could have gone in again today … but the game feels pretty good heading into the weekend."
Asked about 50-year-old Phil Mickelson leading: "He's still Phil Mickelson to me. He can show up and he knows that he can win. He walks around like he can still win, and he talks the talk. No, it'll be tough to catch him, I think."
© Golf Australia. All rights reserved.