Adam Scott and Marc Leishman headline the most global field in golf, but which twosome will adapt best to the reprised foursomes and fourball format?
Peter Thomson once referred to foursomes as a "very silly game" and "an anachronism", yet if Adam Scott wants to join Thomson as a two-time winner of the World Cup of Golf, he and his compatriot will have to come to terms with the peculiar alternate-shot format.
Foursomes, along with fourball, will provide the structure for the 2016 edition at Melbourne's Kingston Heath Golf Club.
"It has largely died out, if it ever was prominent," Thomson said of foursomes play in 2011. "It's a silly idea and it's not good for people watching. I don't think it serves much purpose."
Indeed, foursomes can feel like half a round of golf. Players often go several holes without striking a drive or standing over a putt that matters. Fewer shots are struck per competitor but, conversely, focus often doubles in importance. Foursomes and fourball return for this World Cup, as was the case for the 11 editions held between 2000 and 2011, when Australia often sent second-string teams and produced lacklustre results. Alternate shot will be in play for the first and third rounds with best-ball on the second and fourth days, as 56 players representing 28 countries will battle for the glistening John Jay Hopkins Trophy.
Take a close-up look at the giant trophy, which has occupied various prominent places at Kingston Heath since arriving in early January, and you'll see a plaque along the marble base that reads: "For Annual International Invitation Golf Competition." It's a statement as grandiose as the trophy, one that begs the question: what happened to the "annual" part?
Adam Scott and Marc Leishman will team up at Kingston Heath. PHOTO: Getty Images.
The World Cup of Golf began in 1953 as the Canada Cup, the brainchild of Canadian industrialist Hopkins to "promote international goodwill through golf". Regarded as one of our sport's premier events through until the 1980s, the World Cup (as it was called from 1967) roamed the globe, delivering eclectic winners as often as eclectic venues. At the turn of the millennium, the tournament received World Golf Championship status and moved away from its 144-hole aggregate scoring (two players contributing 72-hole scores) to adopt the alternating foursomes and fourball formats. The gigantic Mission Hills complex in China seized control in 2007, branding it the Omega Mission Hills World Cup while also skipping a year for the first time since 1986 with the omission of the 2010 event.
After Matt Kuchar and Gary Woodland gave the USA its 24th triumph (Australia and South Africa's five titles rank as the next best) in 2011, Omega withdrew its sponsorship and the World Cup lay dormant for another year. In 2013, the ISPS Handa World Cup of Golf returned to Royal Melbourne for the first time since 1988, with Jason Day claiming the individual title and he and Scott lifting the team trophy. In a significant loss for the event and the home side, Day was a late withdrawal from defending the title this month, ruling himself out of competing at home with a statement released in early October. He will instead remain in America to rest a lingering back injury and prepare for 2017. He has been replaced by Victorian Marc Leishman.
The World Cup returns to Melbourne, this time to a new venue, after the first two-year lapse in the event's history. As such, the World Cup has become golf's chameleon event, switching and adapting to fit in with the ever-changing landscape of professional golf. A workable date on the calendar is often a problem, while the quandary over whether to give it a permanent home or let the tournament roam the globe is equally challenging. When and where the next World Cup will be held is anyone's guess.
PAST PARTICIPATION A PLUS
This will be the first staging for Kingston Heath Golf Club, which might see the World Cup as an audition of sorts for the 2019 Presidents Cup (see pages 60 to 65), and represents the initial look at this format for Australian fans. The Presidents Cup factor is present in more ways than one. While the World Cup is not a matchplay tournament, experience playing foursomes and fourball will give past Ryder Cup and Presidents Cup participants an advantage. (Adam Scott's respective win-loss-half records at foursomes and fourball in the Presidents Cup are 6-6-2 and 3-8-3. His replacement Australian teammate was still to be determined at the time of writing after Day's late withdrawal.)
Jimmy Walker and Rickie Fowler have team experience together. PHOTO: Getty Images.
A handful more European and Asian players who have competed at foursomes and fourball at the less-competitive Seve Trophy (Great Britain & Ireland versus Continental Europe) and EurAsia Cup/Royal Trophy (Europe versus Asia) might carry a similar edge. Seventeen of the 56 competitors are past Ryder or Presidents Cup participants: Scott, Rickie Fowler, Jimmy Walker, Chris Wood, Andy Sullivan, Hideki Matsuyama, Ryo Ishikawa, Rafa Cabrera Bello, Graeme McDowell, K.T. Kim, Thongchai Jaidee, Francesco Molinari, Thomas Pieters, Nicolas Colsaerts, Jamie Donaldson, Victor Dubuisson and Graham DeLaet.
Then, of course, there are the players who have contested past World Cups. Two of the players coming to Melbourne are former co-champions under foursomes and fourball: Welshman Bradley Dredge (in Portugal in 2005, with Stephen Dodd) and Italy's Molinari (at Mission Hills in 2009, alongside older brother Edoardo). The venue and revived playing system have been the talking points in the lead-up to the 2016 tournament.
"Since the announcement that the World Cup of Golf was returning to a true, team format and would be played at Kingston Heath, one of my favourite courses in the world, I have been excited to be representing my country," Scott said. "I love the fact that they put it back to its original format and that it's a team event. To play at home as a team in front of our home crowd is tremendous. Playing alternate shot, Presidents Cup is the only time we play that format. That's where we really have to strategise and gel as a team on that day. The field is looking good and the course is magnificent."
A past victor around the host layout, Scott learned the ways of the Sandbelt during the middle phase of his career after at first succumbing to their majestic yet intricate subtleties.
"The Sandbelt region of Melbourne … the golf courses are unique," he says. "They have very distinct features, especially around the greens. Kingston Heath may not be the longest course, but it requires strategy and precision. I have always enjoyed playing Kingston Heath and was lucky to win the Australian Masters there a few years ago. One of the most pleasant days of golf that I've ever had was at Kingston Heath and that's kind of how I rate my courses.
"I think it's somewhat similar to links golf in that you can use the ground to play – especially around the greens. You can bump and run, you can lob it, you can putt it. Controlling your ball around the greens is vital. You have to know your spots to miss. Some people will love it instantly, some won't. That's the beauty of all golf courses."
After Day's withdrawal, Scott, the World No.6, was given the opportunity to choose his playing partner and he selected Leishman, who boasts years of Melbourne Sandbelt experience having playing pennants for the nearby Commonwealth Golf Club.
Leishman, who successfully partnered Scott in the 2015 Presidents Cup, says he is excited to be representing his country on home soil on one of his favourite courses.
"I'm extremely excited about playing in the World Cup of Golf with Adam. I can't wait to represent my country back home in Australia," said Leishman, who was paired with Scott when he won his green jacket at The Masters in 2013.
"It's (Kingston Heath) probably in the top three, to be honest. Along with Augusta National Golf Club and St. Andrews.
Kingston Heath is not long, it's a very fun golf course and you can shoot really low there. You'll have a lot of wedges in your hand – you have to be really precise."
Other players have been effusive in their praise for the venue and the chance to represent their country. Rickie Fowler, a frequent visitor to Australia both in his amateur days and as a pro, will partner US PGA champion Jimmy Walker for the United States. After the Olympics and a successful Ryder Cup campaign, Fowler is keen to represent
the Stars 'n Stripes for the third time in as many months.
"Coming off the amazing experience that I had at the Olympics, it's great to have the chance to put on the red, white and blue again and play for the United States in the World Cup of Golf," Fowler said. "Jimmy is not only one of my favourite guys out here on Tour, but he is clearly one of the most talented players on our Tour as well. I think we'll make a fantastic team and our strengths will work well together. I've heard great things about Kingston Heath and can't wait to get to Australia."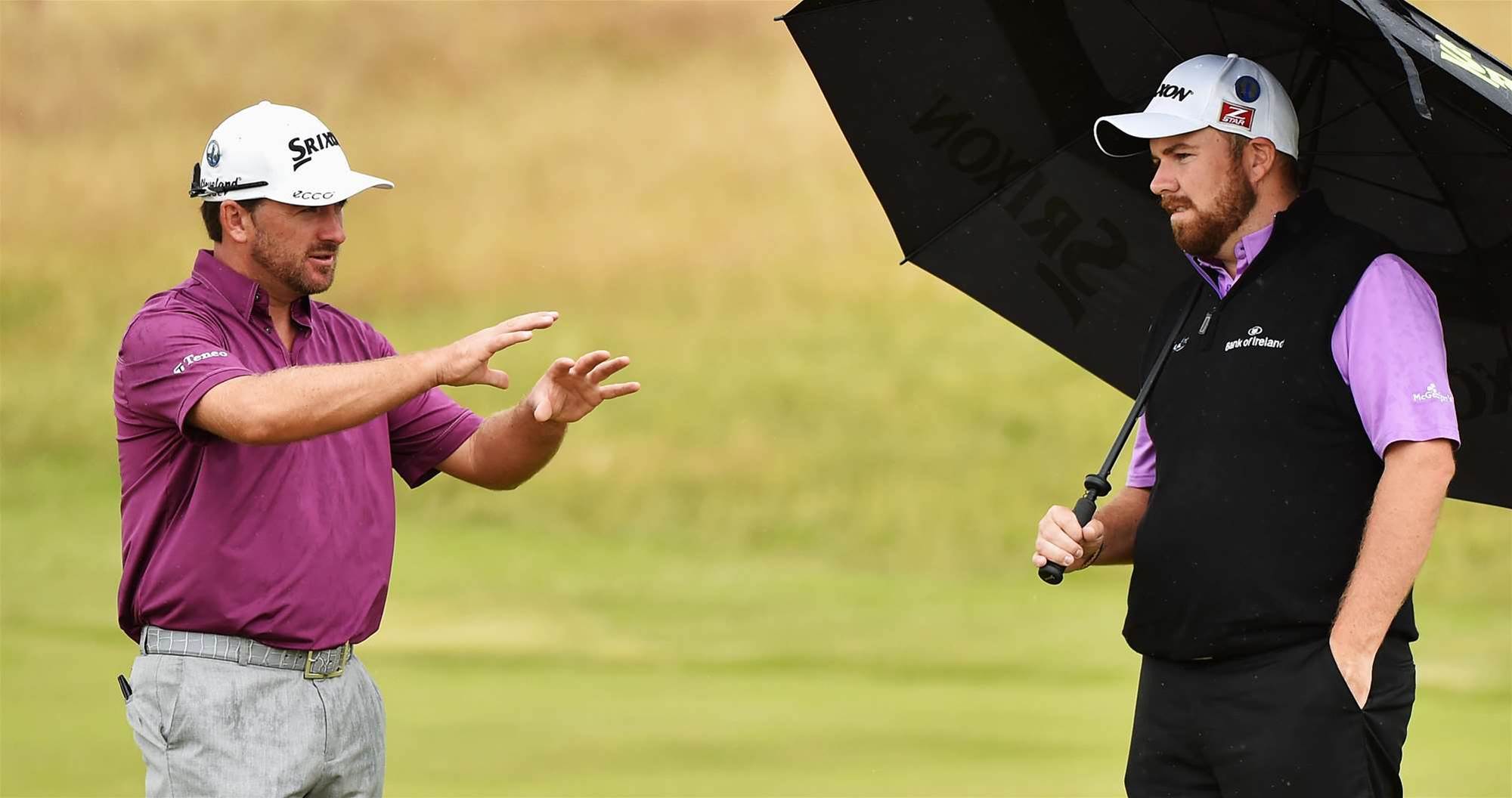 Graeme McDowell and Shane Lowry are back for another tilt at the World Cup. PHOTO: Getty Images.
Several of the teams are particularly strong, especially those where both players have team experience. The Americans (Fowler and Walker), Japanese (Hideki Matsuyama and Ryo Ishikawa) and Belgians (Thomas Pieters and Nicolas Colsaerts) fall into that category. But as any club golfer who's played a foursomes or fourball event knows, gelling as a pair on any given day is the intangible and unpredictable 'X factor' that usually sets the tone.
And the golf world will be watching.
WHAT THE PLAYERS ARE SAYING
Russell Knox, Scotland: "I can't wait. When I found out they were going to play the World Cup at Kingston Heath in Australia – I've never been to Australia – so it was super exciting to get the chance to go there. I've heard the golf course is one of the best in the world so it will be fun. To represent Scotland is obviously a dream come true."
Byeong Hun An, South Korea: "It's always great and I take pride in representing our country. There will be a little less pressure than the Olympics, but it is definitely an event that I want to play well in. It will be my first time playing in Australia. I remember watching the Presidents Cup in Australia and thinking that I hope to play in Australia some day."
Shane Lowry, Ireland: "I'm very excited. I played in the World Cup three years down in Melbourne as well in a different format so I'm looking forward to the team format with foursomes and fourballs. It's a nice place to go at the end of the year, nice tournament, so hopefully I can get down there and do well. It's nice to be able to go down and represent Ireland and, you know, Padraig [Harrington] and Paul [McGinley] won it back in 1997 so I'll go down this year and try to win it for Ireland.
"I played with Graeme [McDowell] the last time and we didn't see each other for the whole week; we were at completely opposite ends of the draw, so it's very exciting to get to play with someone else and get to play some foursomes and fourball, so it's going to be nice and exciting to be going there with a chance. John Senden told me it's the best course in Australia so if it's the best course in Australia, it should be pretty good so I'm looking forward to it.
"It's nice the courses are good; they play firm and fast and short. The par-3s down there on some golf courses are some of the best par-3s in the world. Melbourne is a great city. I spent a week there a couple of years ago and we were treated really well so I'm looking forward to going back."
David Lingmerth, Sweden: "It's a special year this year. Since turning pro, I haven't gotten the opportunity to represent my country on very many occasions. The Olympic Games were obviously very special. I've never played in a World Cup, but I remember watching Henrik Stenson, Peter Hanson and Robert Karlsson in the past. To get an opportunity to do it myself is something I hoped I would be able to do someday."
Thongchai Jaidee, Thailand: "I'm looking forward to playing in my fifth World Cup of Golf in Melbourne this November. With the tournament reverting to a combined team format, I believe it will be exciting for the players and I hope to put up a strong showing … My best finish at the World Cup was tied seventh in 2008 (with Prayad Marksaeng) and it will be fantastic if I can help Thailand improve on that performance and contend for the prestigious trophy. It is always very special to represent Thailand and with a list of past World Cup champions that include legendary names like Jack Nicklaus, Arnold Palmer and Gary Player, it will be wonderful if Thailand can rise to the occasion and put our names on the World Cup trophy. I will be trying my best for sure, as we don't get too many opportunities to represent our country."
Kiradech Aphibarnrat and Thongchai Jaidee are strongly favoured to be in contention at the Cup. PHOTO: Getty Images.
Kiradech Aphibarnrat, Thailand: "I am happy that Thongchai has asked me to be his partner for the World Cup of Golf. Playing together, our confidence will be high and I think we can have a good chance to hold the trophy. Thongchai is in good form this season and I'm playing quite well over the past few months as well, including at the recent Olympics (where he finished tied fifth). I look forward to playing again in Melbourne. I finished really well in the individual category in 2013, which was my best year as a professional, and I have been striking the ball well this year. I love the way the golf courses set up in Melbourne, and it's always very nice weather there too. I've heard that Kingston Heath is a fantastic golf course and is one of the best in the world. I'm looking forward to getting back there."
Jhonattan Vegas, Venezuela: "I'm playing with my brother and that's super exciting. It's been a long, long time since I've played with him in an event. It's always fun playing with your 'bro' and especially in a team format. My brother and I played in the South America Cup together and in some team events in Venezuela, so It will be great to go back and do that again. I have never played in Australia but I have heard a lot of great things about it. Having just won recently, this is a good thing about playing well, you get into some of the events that are fun and exclusive like this. I'm really looking forward to it."   
© Golf Australia. All rights reserved.