Englishman Matt Wallace won three European Tour titles in 2018 but was still controversially overlooked for a spot in the Ryder Cup. His push for a place in the 2020 team has already begun.
From nearly quitting the game to becoming a four-time winner on the European Tour, Matt Wallace's rise to golfing stardom in the past three years has been quite a story.
Indeed, it was only a little over two years ago that the 28-year-old Englishman was still playing on the Alps Tour where crowd attendances are non-existent, and the winners pots, on a rare occasion, can reach around the AU$17,500 mark.
Without any kind of financial security and virtually no media interest, life on Europe's third level Tour can be extremely testing. But as Wallace has shown spectacularly of late, it can also prove as a springboard to success on the big stage.
"You learn a lot on a tour like the Alps Tour," says Wallace to open our interview. "It's not easy. The standard is good and there are no courtesy cars or nice hotels for you to stay in. I think it's a great grounding and I'd encourage any young player just to get out there and play.
"The year I had in 2016 was incredible really and I think that each year I've moved up a little level since. I've retained that attitude to go out and try to win, rather than consolidating."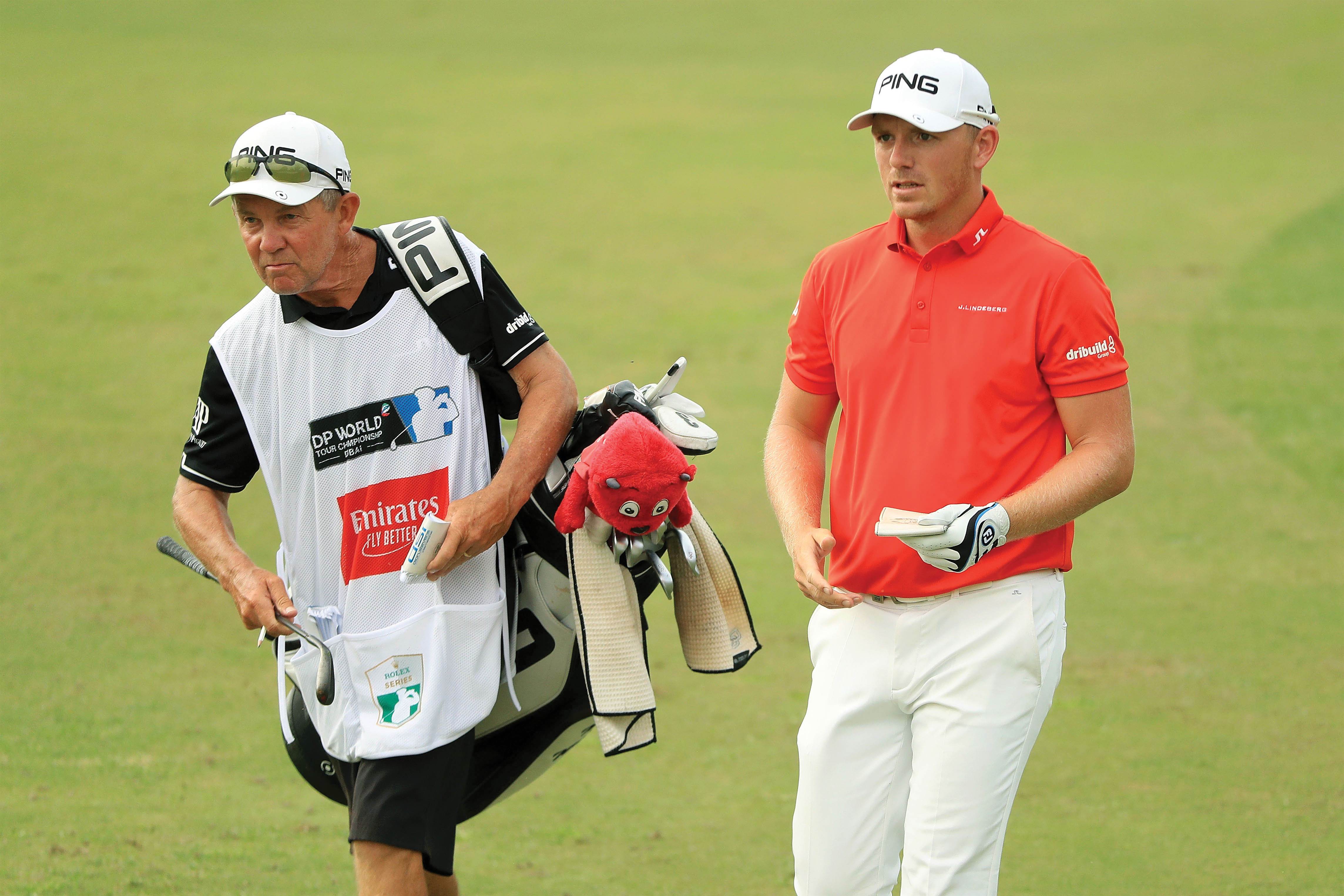 Wallace says caddie Dave McNeilly's experience and hard work are huge assets. PHOTO: Getty Images.
Three European Tour victories in 2018 certainly reinforced Wallace's continued will to win. But as he alludes to, the six triumphs he mustered on the Alps Tour in 2016 marked the start of his growth as a reckonable force. Such success allowed the man from Hillingdon, west London, to join Europe's second level tour, the Challenge Tour, which, in turn, meant that he was invited to play in the dual-ranking Portugal Open in May 2017 – an event he magically ended up winning, announcing himself to the golfing world.
Subsequently, he secured promotion to the European Tour and, suddenly, was entering tournaments worth $10 million and playing at courses like the prestigious Wentworth. Yet, only two years earlier, in 2015, Wallace was considering giving up golf and, remarkably, was job hunting as a player manager.
"Back then, I was working hard but on the wrong things and felt like it wasn't really going anywhere," says Wallace. "I actually wrote off to quite a few management companies looking for a job because I thought I'd be good at that side of it.
"I'm always winding up my manager Chubby Chandler about it because I emailed the management company, ISM, and they never got back to me. It's strange that only three years later I am where I am and now I'm managed by them."
RIGHT: Wallace's Hero Indian Open win last March was the first of three victories in 2018. PHOTO: Getty Images.
Hearing the tale of a golfer on the verge of retirement is nothing new but what's curious about Wallace is the fact that he envisaged himself as a player manager. Upon being quizzed on what he would do now as an alternative to golf, he responds perkily by saying, "I wouldn't be working for ISM by the looks of it." But on a more serious note persists that he could see himself "doing something on the mental side of the game."
Wallace's parents teach physical education in schools so maybe that is where he gets his desire to educate others from. Nevertheless, clearly, he believes the mind is pivotal in the fortune of a golfer and therefore treats his mental game the same as he does as his golf game. Nothing showcases this more than how he closed out his first big tournament win in Portugal so convincingly by three shots, how he staved off a firing Martin Kaymer at the BMW International Open and how he won two tense play-offs at the Made in Denmark and Hero Indian Open.
"If I have to think about it there are so many things that contribute to what you do," says Wallace. "And I think I've got a good team around me, each taking care of their own area and ideally putting me in a position to finish things off.
"Once my technique was right, I think it's been the mental side that has probably got me where I am. I just thrive on being in those positions on a Sunday."
Wallace is absolutely right that his mental strength and the unshakeable belief he has in himself has formed the bedrock to his accomplishments. But the good team he talks about also deserves huge plaudits for his development. That's for sure.
Victory at the Made in Denmark for Wallace wasn't enough to secure a Ryder Cup pick. PHOTO: Getty Images.
Fellow Englishman and professional, Robert Rock, has helped to refine his swing. While his caddy, the Northern Irish veteran and massively revered, David McNeilly, has seemingly succeeded in keeping his feet grounded and passing on winning traits, having been on the bag of multi-major champions – Padraig Harrington, Nick Faldo and Nick Price – in the past. Intriguingly, at 66-years-old, McNeilly is nearly four decades the senior of Wallace. Yet, despite the considerable age gap, their relationship has flourished.
"Without getting too technical, Rocky just made my swing more efficient and I love working with him," says Wallace. "Dave's brilliant. Previously I thought I'd be best to have a young caddy so I could talk about things like cars and football but then you look at Dave's experience and how would you not want to have that on your side?
"We have the same attitude to work and it's typical for someone to send me a photo of him out on the course first thing in the morning, or last thing at night, just getting his preparation done and, like me, trying to leave nothing to chance and no excuses. We have loads of fun together, even though I make him repeat the same Nick Price stories to anyone that will listen! He's been amazing for me and I've got so much respect for what he's done and what he does."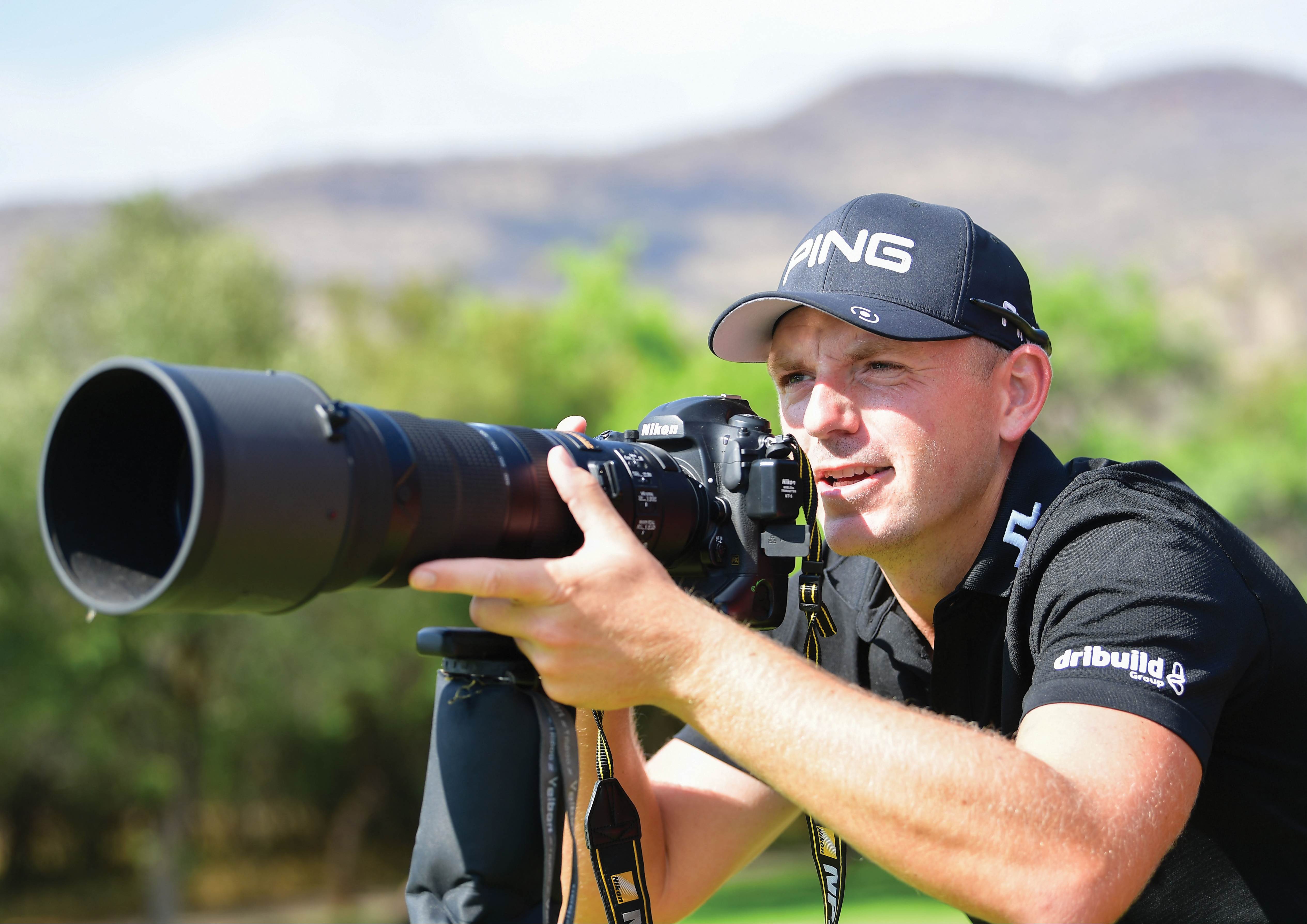 The Englishman gets on the other side of the camera in South Africa in late 2018. PHOTO: Getty Images.
Although only still in his 20s, Wallace certainly comes across as somewhat traditional and older than his years, which is perhaps why he gets on so well with McNeilly. As well as preferring "chill-out music", when asked what he misses the most when he is away from home, he replies "home cooking." Delving deeper to find what his tastes are, he says he "likes red wine and a steak." Away from food and beverage, he mentions that he would have "loved to be able to hit balls on the range next to Ben Hogan at Riviera."
However, it should be said that he wasn't always so mature. At 18, Wallace was working in a men's clothing store and, it's said, he was fond of a party or two, before changing his entire outlook upon turning 20.
Looking at him now, you get the sense he still hasn't realised exactly how far he has come and what he's achieved. Maybe it's just his character and he's taking it in his stride, knowing that he was always capable of great things. Or perhaps he just hasn't had time to take it all in. Either way, it makes you wonder whether deep down he has amazed himself by the success he's achieved in such a short timeframe.
"Even now, playing in majors and WGCs, I appreciate where I am and where I've come from but I'm just as determined to compete." – Matt Wallace
"On the one hand, no, and on the other, definitely yes," says Wallace. "Even when I was playing England Golf, I was never a great player with a pure swing but I knew how to get it round and score. When I look back, I think I captained a few teams just because they were comfortable with me doing the speeches.
"It's a pretty brutal way to look back on it but, by the same token, the confidence I've had from winning means that nothing surprises me. Things have snowballed and even when I moved up from the Alps Tour, I didn't see any reason to change and ended up winning my fourth tournament. Even now, playing in majors and WGCs, I appreciate where I am and where I've come from but I'm just as determined to compete, no matter what level I'm at."
For all the recent highs, the one disappointment for Wallace from last year is surely not making Thomas Bjorn's European side for the Ryder Cup. Normally, winning three times in a season, albeit three of the smaller events on the European Tour, would make you near on a certainty for a captain's wildcard pick. However, the Londoner was unfortunate in that the high profile and vastly experienced quartet of Ian Poulter, Henrik Stenson, Paul Casey and Sergio Garcia were also all relying on Bjorn for a ticket to Paris.
Overall, Wallace admits he was gutted not to get picked, but acknowledges that, in the end, it was hard to argue with Bjorn's decision to leave him at home and says the Dane treated him with the utmost respect when notifying him of the verdict.
It would be easy to feel sorry for Wallace believing he missed his chance when the iron was hot, and another opportunity to represent Europe may not come along for a long time, if at all. However, the former Jacksonville State University student refutes that notion entirely and says the next Ryder Cup is already in his thinking.
Wallace admits he was gutted not to get picked for the 2018 Ryder Cup in Paris. PHOTO: Getty Images.
"I was disappointed when I got the call," says Wallace. "But I respect Thomas' decision and the way he told me and you can't argue with the performance that the rookies put in.
"Funnily enough, the way Thomas told me, I knew he would make a great captain. At the start of the year, the Ryder Cup probably hadn't been on my mind but with the way things went, people were asking me about it all of the time.
"I really enjoyed watching the Ryder Cup but as soon as it was won, I was out there practising. I want to make the next one but the only way to do it is by playing good golf. I need to keep the focus on the short term and see where that takes me."
Despite missing out on the Ryder Cup, Wallace's evolution from the depths of despair to the heights of ecstasy is an eye-opener to say the least. At 28, and having only turned professional in 2012, he is a late bloomer in golfing terms. Indeed, it's easy to forget he played in his first Open Championship just seven months ago, an experience he described as "amazing".
Too, it appears as if Wallace is enjoying the attention which has come with success, having been on the other side of the coin when playing on the lowly tours of Europe. He is pleasant and open as he reveals a liking for the rugby union team, Saracens, who his friend Ben Spencer plays for and he explains how he supports the hometown team of his father, Manchester United, despite being from "the best city in the world" as he calls it – London, something which only adds to the straight forward, old-fashioned feel about him.
"At the start of the year, the Ryder Cup probably hadn't been on my mind but with the way things went, people were asking me about it all of the time." – Matt Wallace
But as his record shows, he also has a lethal side and evidently possesses a single mind, like all prolific winners, which has propelled him to these unprecedented heights. As a youngster, he played football and cricket too but admits he lost friends because of how much he wanted to win. Golf was the game he ended up focusing on because he could play on his own and control his own destiny.
Moving up from the third tier of European golf to the first tier in the space of five to six months was scarcely believable. Yet how he has coped with such quick success suggests that he could well have the staying power to continue riding the wave in Europe and, then, ultimately, start competing with the very best in America and at the majors ... Something that must surely be within his long-term aims.
"I just want to keep on moving forwards," ends Wallace. "At the start of 2018 my goals were too long-term and I was hitting them so now things are very short-term and, like I say, I just need to feel like I'm making progress." On 2018's evidence, he's certainly doing that.
© Golf Australia. All rights reserved.