Open Champion Francesco Molinari says even he is surprised by the success of his most recent season but believes he can ride this wave of form into 2019 and beyond.
For a brief hour or so, on the final day at this year's Open Championship, it looked like we were witnessing one of the greatest comebacks in modern sport.
Dressed in his customary red shirt and looking as determined as ever, the great Tiger Woods was staring down at a 15th major on the hallowed, baked out greens of Carnoustie with the likes of Jordan Spieth and Rory McIlroy stationed closely behind.
However, what we failed to notice was the unassertive Francesco Molinari playing alongside him, who, through all the noise and hysteria, was quietly jostling into position to make his own history and cap off a remarkable career changing summer – a two-month period which has seen him claim Europe's flagship event, bag his maiden victory on the PGA Tour and now win his first major.
"It's amazing, really," says Molinari in an exclusive interview with Golf Australia Magazine. "To win an Open Championship is the goal of a lifetime. I feel very privileged as a lot of other good players have not had a chance to win a major in their careers.
"To be honest, it's been quite difficult to come to terms with it. Your whole career you keep working on your game, but you never know where it is going to lead. Being The Open champion is crazy."
Molinari won The Open by two shots from a group of four players. PHOTO: Getty Images.
To those who have tracked the Italian's progress over the past few months, his world-shaking triumph at Carnoustie is, perhaps, not as surprising as it is to some. The 35-year-old won the BMW Championship at Wentworth in May, impressively pipping a firing McIlroy. And on the PGA Tour at the Quicken Loans National Championship in July, he took victory by a convincing eight shots.
Nevertheless, considering his previous performances at Carnoustie – missing the cut there in the 2007 Open, for example – winning the game's oldest major still seemed unlikely. As Molinari says, the formbook offered him hope, but the Scottish course was hardly a setting where he usually showcases his best golf.
"I thought I had a chance yes because of the form I was in going into the tournament," says Molinari. "But to be honest Carnoustie for me has always been a bit of a nightmare so I wasn't expecting much.
"Playing 18 I was still not even thinking about winning. Just in my mind was to make another birdie and continue the way I had been all day – calm, collected and being aggressive. Luckily everything worked out for me."
"Your whole career you keep working on your game, but you never know where it is going to lead. Being The Open champion is crazy." – Francesco Molinari
For sure, being drawn to play with Woods, like Molinari was in the final round at the Open, is no easy feat. As seen since his comeback, huge crowds are drawn to the 14-time major winner, which can create a carnival atmosphere that sometimes boils over. What resonates strongly, however, is how Molinari dealt mentally with such events and how assured and confident he looked in closing out the victory.
Of course, his putting has improved massively with coach, Phil Kenyon, and widely respected swing instructor, Denis Pugh, has made a huge impact on his career. But someone who many will certainly not have heard of, or are likely to in the future, is the English performance psychologist, Dave Alred, who works in the background with Molinari. Alred boasts an array of clients including Luke Donald and Padraig Harrington as well as rugby star, Jonny Wilkinson, who he helped kick England to the World Cup in 2003. He has a great track record in turning nearly men into the finished article. That magic has clearly rubbed off on Molinari.
"Both Denis and Dave have been very important to me in many ways," says Molinari. "Denis has been with me basically my whole professional career. He is so supportive, in good times and bad, and has helped me to improve the swing tenfold.
"Dave – I have only worked with him for two and a half years. But he was probably the person I was missing on my staff for a long time because I needed somebody pushing me in terms of my mental attributes on the course. He has done that."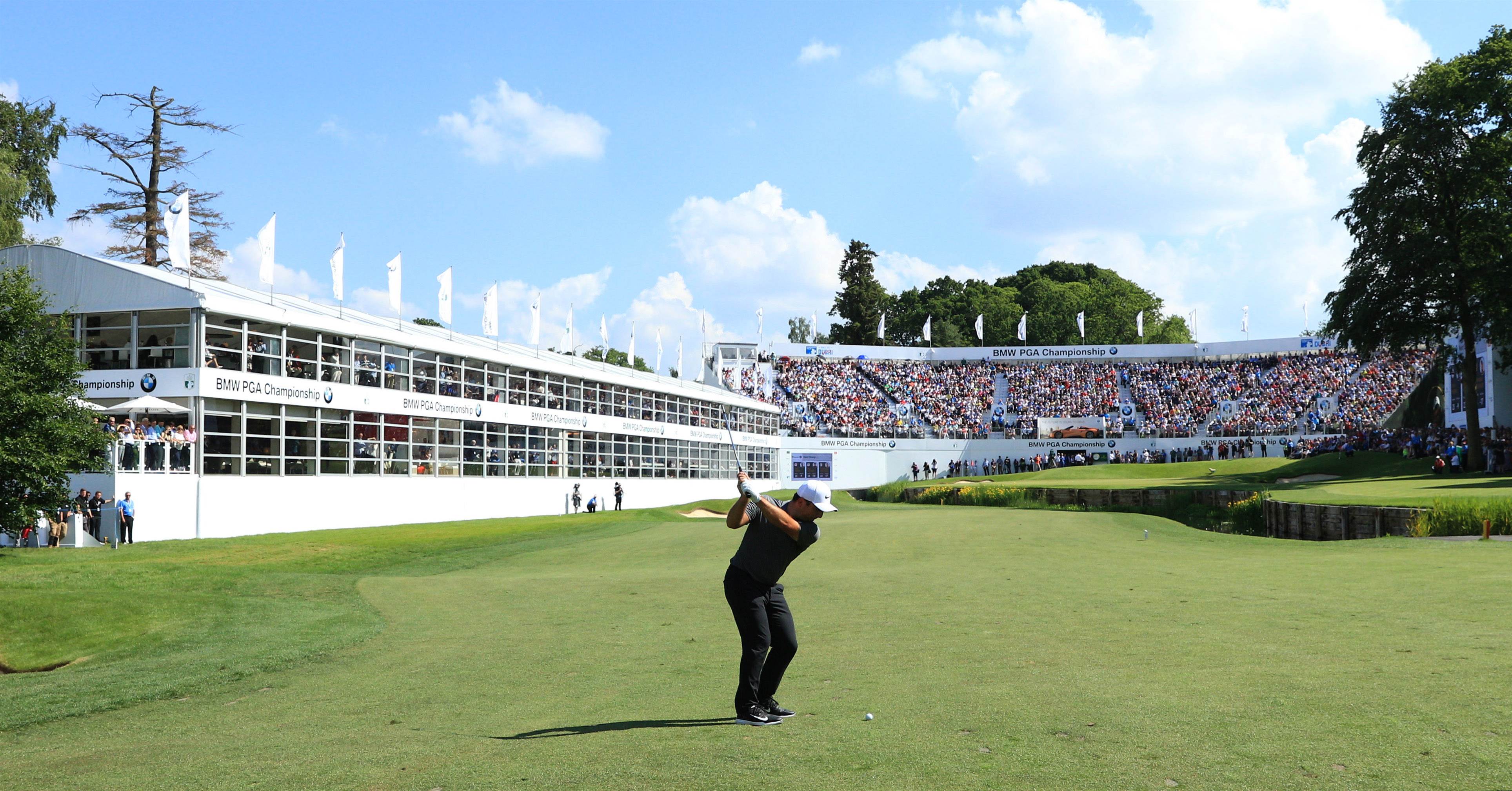 Molinari plays his approach to Wentworth's 18th hole on his way to victory in May this year. PHOTO: Getty Images.
The mental improvement which Molinari speaks of has paid dividends to his career and is probably the primary reason why he is playing the best golf of his life. In no time at all, he has gone from a moderate threat to the elite to a serious one, as was evident at the Open.
But, having tasted victory just four times before this year, what was it like to first see the rewards of a renewed mental approach with a win at Wentworth and then a first PGA Tour title, earlier this year?
"Amazing, just amazing," says Molinari. "Wentworth was a huge win, with it being the flagship event on the European Tour and with the history and tradition of Wentworth. Plus, it's a special tournament for me, because I remember rushing home from school one Monday in 1996, watching Constantino Rocca winning there. That memory always stuck with me. So, to repeat his success was a great feeling for me.
"And winning the Quicken Loans was great as well. One of my goals at the start of the year was to win on the PGA Tour. There I probably played my best golf, ball striking wise. I was in control the whole week."
As a child growing up in Turin, Molinari was introduced to golf at a very early age by both his grandparents and parents, who were fanatics of the game. He pays great homage to their influence and suggests that he would probably not even be a golfer without their provision.
But, while he loves golf deeply, he stresses that he takes results with a pinch of salt. Even wins at The Open. It is clear that his family always comes first and his success would not be possible without the particular support of his wife, Valentina, who provides the foundation he needs to focus on his game.
"Golf does not affect me much," says Molinari. "Naturally, it does in the short term when I have just finished the round. But then it will go quickly. When I was younger, if I had a bad round, it would hurt me a lot. But now, with me having a family and more life experience, I realise it is important, of course, but not the end of the world.
"My family have been a massive part of my success. My wife really helps me to keep my feet grounded and makes me realise that golf is just a job and not my whole life. She also does an amazing job with the kids, so I have to thank her all the time."
Francesco takes a snap of the famous yellow Open leaderboard with his name on top. PHOTO: Getty Images.
As we are on the theme of family, it would be wrong not to mention his brother and fellow professional, Edoardo. Both of them played together at the Ryder Cup in 2010 and as professionals appeared to have always tried to drive each other on to get better.
With his recent purple patch, Molinari has seemingly won the sibling battle between the two. But he has not forgotten his brother and the impact he has had on his growth as a major champion.
"In recent years, me and Edoardo have not spent so much time together for different reasons," says Molinari. "But we used to challenge each other when we were children and encourage each other to do well as professionals. I think that was so important to us making good careers. That sibling rivalry in trying to beat each other made us both better players, for sure. We were lucky to have that."
In Italy, where golf is lacking exposure and football is king, Molinari is seen somewhat as a trailblazer for the game in his homeland. Being the first Italian to ever win a major has now surely made him an icon in a country which, in four years' time, will host the Ryder Cup.
It seems crazy to think Molinari will not be there in 2022, but there is no getting away from the fact that he will be 40 years old when the event hits Milan. Even so, the London-based man is aiming to make it and believes that the tournament will do big things for golf in his home country.
"I think Italy is a nation crazy about sport," says Molinari, with real enthusiasm. "Football is obviously the leading interest and golf is small but when there are big events like the Olympics, everybody gets involved. So, from that point of view, I believe the Ryder Cup there in 2022 will be absolutely massive for the game. I think it is starting already to have an impact on golf in Italy with the country's media giving more coverage to the game and more people are starting to watch golf.
"I always remember when I was a teenager I felt it was impossible to be a professional golfer from Italy, so to see where I am today is quite remarkable." – Francesco Molinari
"For me, it would be incredible to play a Ryder Cup in my own country. I can only imagine the feelings of other European players when they play such a big event in their home nation. Obviously, it is still a long way away and I will never know where I will be at that point in my career, but it is a massive, massive aim of mine to be there."
As the conversation focuses on Italy, you can see Molinari is very patriotic and is passionate about the state of golf in his country. However, being so mild-mannered and easy to talk to, would make you doubt his authenticity as an Italian. As such he is asked what Italian stereotype he lives up to.
"Well, I'm very loud so in that way I'm not very Italian," replies a laughing Molinari. "The one I probably live up to is that I love food a lot and miss home when I'm away. I've always found it hard travelling around the different events."
For someone who finds it difficult travelling around the world, Molinari has certainly not done too badly. If his career ended now, he could say he has won his national Open twice, a World Golf Championship, a PGA Tour event and The Open. Hence, you wonder if he is surprised by his success?
"I am, yes, certainly," says Molinari. "Because when you look at Italy, there have been hardly no successful golfers. We haven't got great history. I always remember when I was a teenager I felt it was impossible to be a professional golfer from Italy, so to see where I am today is quite remarkable."
The Molinari brothers pose proudly with the Ryder Cup at Celtic Manor in 2010. PHOTO: Getty Images.
Indeed, what is so intriguing about Molinari is his humility and the contentment with what he has. After his Open victory he did not drink beer out of the Claret Jug or go on a wild binge to Las Vegas. Instead he set off on a family holiday to wind down and get ready for what lies ahead.
He is unassuming and, while undoubtedly has a craving for success, he presents an oasis of calm which has, perhaps, become his greatest strength. From being a player who was good but not great and who always fell short on the final day when in contention, Molinari has unexpectedly risen as a major champion with the help of his staff.
Even with such progress, however, when finally questioned if he thinks he can win more majors after The Open, Molinari's modest character still shines through.
"Winning more majors is not going to be any easier just because I have won one now," concludes Molinari. "You do not get that right. I will have to try and reset.
"Although, to be truthful, I've had a very good career, so far. I've had more success than I thought I would ever have had. Whatever happens from now, I will be proud of what I've done."
© Golf Australia. All rights reserved.