Occasionally overlooked in appraisals of the elite Sandbelt courses of Melbourne, Woodlands is a club on the rise thanks to a supreme layout and savvy approach.
First impressions can be everything when it comes to golf clubs.
When you're only experiencing a course once, or deciding whether a significant joining fee and annual subs are something you're willing to entertain, those initial moments invariably have a lasting impact.
So the kindly old gent who sauntered up for a chat as we waited to tee off at Melbourne's Woodlands Golf Club left an indelible mark. Had we played here before, he asked, before proffering some 'intel' about the course's condition and then providing some advice as to club and shot selection as we contemplated how to tackle our tee shot at the relatively benign 357-metre par-4 1st, which curls in a vague dogleg from right to left.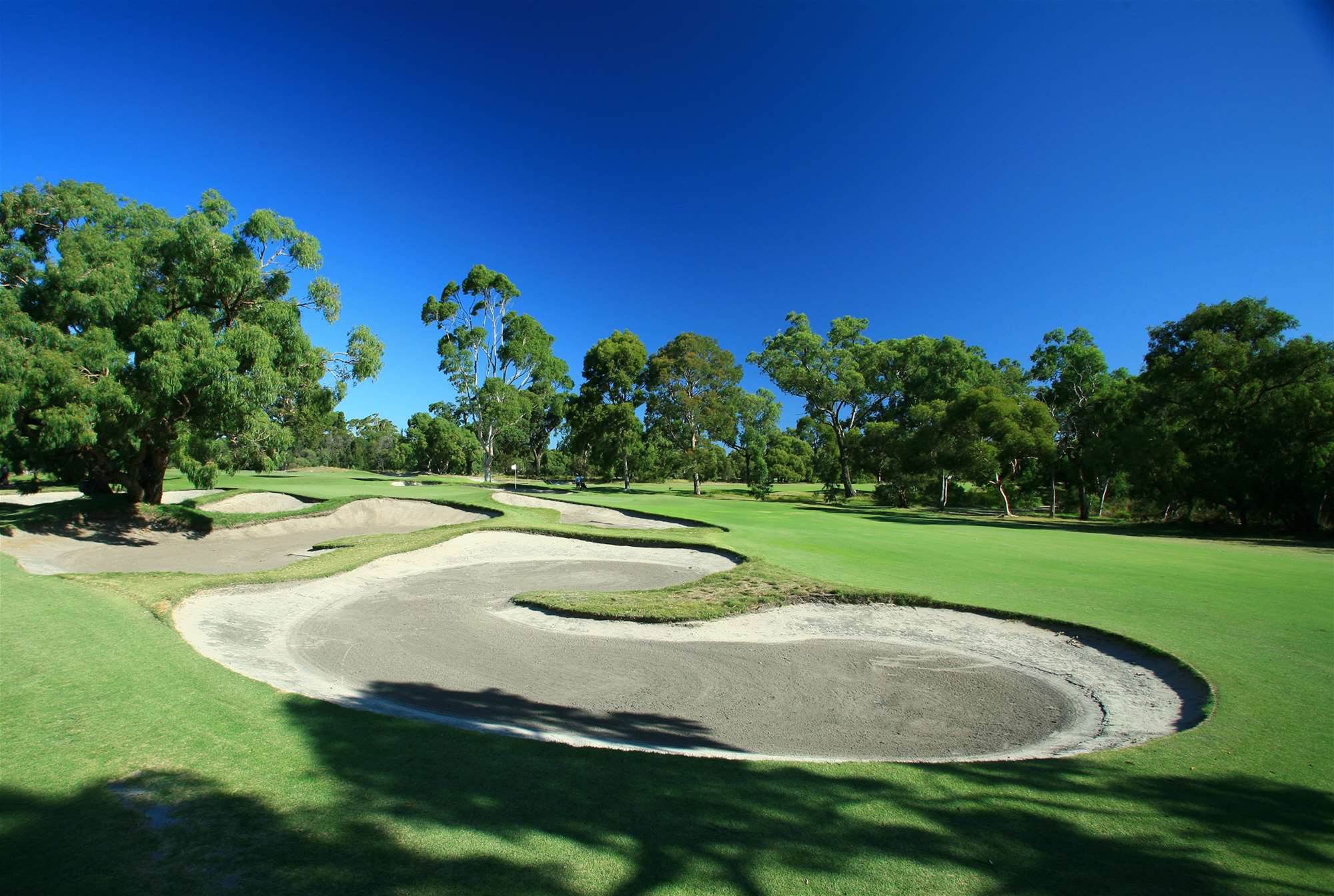 Woodlands is short by modern standards, yet tests approach play and around-the-green shots like few other courses can. PHOTO: Brendan James.
It was a small touch, but given the indifference with which visitors are known to be treated at some elite clubs, it was one that lodged in the collective memory. Lodged right alongside the course itself, that is.
A southern Melbourne staple founded in 1913, Woodlands doesn't walk with the same swagger with which some of its more celebrated counterparts just a few moments to the north carry themselves. And yet amid Mordialloc's ever-widening residential sprawl it remains a stunning Sandbelt haven in its own right, and one of which the club's members and staff are eternally proud.
Not a place for mindless bombing, Woodlands presents an old-school golf test that's a genuine treat from start to finish. And visitors to the club evidently agree, with a substantial queue already in place for seven-day memberships.
The club remains largely untouched more than a 100 years on, save for a few (yet substantial) cosmetic changes, like the $8 million clubhouse renovation undertaken in 2010. The fact that it continues to retain a ranking among the top-20 courses in Australia is a telling indication that the course's designers got it right all those decades ago.
Eye-meltingly photogenic Woodlands may not be, but this is golf, after all, and as a genuine golf experience there are few courses that surpass it. In fact, at a little longer than 6,100 metres and skewed towards prudent club and shot selection, it's not hard to imagine Woodlands' forebears effortlessly keeping pace with us and all of our modern accoutrements. Woodlands isn't a course many players will be able to overpower, courtesy of the narrow fairways, cunningly placed hazards and miniature greens that are the hallmarks of this suburban layout. We took driver only a handful of times throughout the round, in a bid for a modicum of safety over tee shot supremacy.
Conquering the Woodlands course is an exercise in constantly weighing risk versus reward. PHOTO: Brendan James
As an indication of those underlying risks, this writer flirted with double digits at the 251-metre par-4 4th hole, rated as the least difficult on the course. Reaching the green in one is a tempting possibility, however miss left or right and you're faced with one of Woodlands' narrowest putting surfaces, flanked by a couple of metres of sheer drop on either side. Suffice to say, we explored both sides before finally managing to flop one on, and walked off with a tail between the legs.
A word on the greens. We challenge you to find a collection of targets this small anywhere. All bar the par-5 6th green come in at less than 30 metres in length, demanding a level of precision that few players will be able to maintain for their entire round. Instead you're best served to play with risk minimisation front of mind. Hitting your mark with a low-percentage shot might be mentally and aesthetically pleasing, but missing anywhere at Woodlands will almost certainly land you in an area from where the odds have been deliberately stacked against you.
Heavy and deep bunkering is an ever-present consideration, and no more so than at the 400-metre par-4 10th, where a column of sand stretches from the middle of the fairway, 60 metres short of a modestly sized green, all the way up the left side. Again, crisp iron play is rewarded, while straying only a few metres offline almost invariably ends in trouble.
Eye-catching and strategic bunkering is a Woodlands hallmark, including at the long par-4 10th hole. PHOTO: Supplied.
The test continues on the run home. We were found out at the 511-metre par-5 15th, where bunkering is placed to target both layups and approach shots, while errant tee shots mean challenging escapes from the trees and scrub from which the club derives its name.
But if you've survived your encounters with Woodlands' most difficult holes around the turn, hope awaits at the 18th – a comparatively open par-5 with subdued bunkering and a generous downslope as your tee shot reaches the top of a gentle hill, presenting a genuine opportunity to shave a shot off your score and finish the round on a high.
Not a place for mindless bombing, Woodlands presents an old-school golf test that's a genuine treat from start to finish. And visitors to the club evidently agree, with a substantial queue already in place for seven-day memberships.
"The club in the past two years has experienced an upturn in membership, which in turn has led to a waiting list for a seven-day membership," says Richard Tullberg, Woodlands' general manager.
The long par-3 17th hole adds muscle to the closing stretch of holes. PHOTO: Supplied.
Membership remains at the more affordable end of the scale for courses in the region, with fees decreasing in increments for members aged under 35. The club has also targeted players considering joining from another club, offering to waive the traditional entrance fees for anyone who is a current member elsewhere – and has been for five years or more. In some cases, that's a $7,560 saving, and Tullberg says Woodlands' membership strategy has proven to be a winner.
"In an industry that has in recent times struggled with not only maintaining members but also recruiting, the club has, through some clever initiatives, increased member numbers and participation," he says.
The overall club experience was forever enhanced when the clubhouse was upgraded six years ago, which included the creation of an expansive outdoor dining and entertainment terrace, as well as a larger members' lounge and improved locker and storage facilities. The improvements have also rolled onto the course, which is currently in the midst of a substantial refurbishment of its own.
"Due to its strong financial position, the club has recommenced its greens replacement program, which will see all greens re-profiled with Mackenzie bentgrass and complemented with fine fescue surrounds," Tullberg says.
Currently eight greens and both practice putting greens have been completed, giving more than a glimpse of the course quality that members can soon expect at a layout that's already in exceptional condition, even in the depths of winter.
As an all-round package at a comparatively affordable price, Woodlands is a compelling proposition. Like our old mate on the 1st tee, we were just happy to be out there. 
FACT FILE
THE COURSE
LOCATION: 109 White St, Mordialloc VIC 3195.
CONTACT: (03) 9580 3455.
WEBSITE: www.woodlandsgolf.com.au
DESIGNERS: Rowley Banks & Sam Bennett (1913).
SLOPE RATINGS: Men: 133/130/128/119; women: 130
PLAYING SURFACES: Bentgrass (greens), Santa ana couch (fairways).
COURSE SUPERINTENDENT: John Mann.
PGA PROFESSIONAL: Jason Simmons.
PHOTO: Supplied.
THE CLUB
MEMBERSHIPS: Membership intakes to join Woodlands Golf Club are currently being accepted, subject to category availability. Enquiries should be directed to the membership administrator at the club.
RECIPROCAL CLUBS: Woodlands currently has more than 35 reciprocal clubs domestically and internationally. Visit the website for a full list.
CORPORATE GOLF: Woodlands has versatile function rooms that cater for intimate sit-down functions for 20 to 280 guests, or a stand-up cocktail party for 350 guests in a climate-controlled traditional yet modern setting. Supported by state-of-the-art AV equipment, first-class service and fine dining, all rooms enjoy sweeping views of the course. Woodlands is an ideal lo
© Golf Australia. All rights reserved.