Polish a gem long enough and it will be transformed into an absolute thing of beauty.
In this case, that gem is the par-72 layout at St. Michael's Golf Club, which covers beautifully natural undulating terrain overlooking the Pacific Ocean.
The course, which opened for play in 1938, lies on the best strip of golfing real estate in Sydney, which incorporates the world renowned New South Wales Golf Club to the south, and the nationally-ranked The Coast Golf Club next door to the north. With several tees perched high in the dunes affording great ocean views beyond the fairway and green that lies in front, St Michael's has always been a spectacular place to play golf.
The short par-4 9th hole boasts one of the new green complexes at St. Michael's. PHOTO: Brendan James.
In the past 12 years, the club has undertaken a step-by-step program of course changes to 'polish their gem' and making it an even more memorable golfing experience by embracing its links course roots, with a modern appeal.
"With the natural terrain and landforms, we have around here, the firmer couch is bringing the best out of that." – Course Superintendent Lee Sutherland.
Back in the mid-1930s, a small band of golfers known as the 'Niblic' Club, took over the leasehold on land adjoining the northern boundary of the NSW course. Michael Moran, who held the lease, signed over the land and then supervised the construction of the first nine holes. Acres of thick scrub and ti-tree were cleared, sometimes by hand, to reveal a sandy linksland dominated by high dunes sloping down to the seaside clifftops.
When Moran retired a year later, club member and official starter Charles Cole oversaw the completion of the second nine. The club lost use of the course during World War II when the army took over the St. Michael's and New South Wales clubs. Over the following five decades trees were planted, new tees built, some greens altered and the fairway grass changed.
These changes were not always good ones.
The par-4 16th has always been a great hole but is now even better with its new green. PHOTO: Brendan James.
When the club embarked on its journey to fulfilling its potential as one of the country's best seaside courses, a key element of the plan was the return of all the fairways to couch. Back in the early 1980s, St. Michael's had very good couch fairways but, as has been the case with many Sydney courses over the years, the spread of kikuyu grass took over and by the mid-1990s it covered the layout.
The couch restoration program began in 2010 with three to four fairways per year being eradicated of kikuyu and replaced with Windsor Green couch.
"Once we did more than six fairways, people started to go 'wow' as they could see there was a significant difference," St. Michael's General Manager Jeff Wagner says. "Members of the past who were kikuyu fans and loved playing on that grass, were starting to think this couch isn't too bad after all."
The long par-4 18th demands in accurate approach, usually from an uneven lie. PHOTO: Brendan James.
Wagner is right. The years when kikuyu ruled the fairways at St.Michael's it was nigh impossible to scratch out a good score in heavy winds as you were forced to hit shots up into the air to hit a green, while the high-quality couch fairways that are now in play, encourage a ground game approach as an option. That's not only good for playing golf in all conditions but I imagine its more enjoyable for shorter hitters and high-handicapped players as well.
"It's complementing the landscape that we have got," adds Course Superintendent Lee Sutherland. "With the natural terrain and landforms, we have around here, the firmer couch is bringing the best out of that.
"Historic photos from the 1940s show what the course was like and what a natural layout it was, which is what we have been working towards. It tends to be a more natural golf course and that's what people who play here are finding.
"It's an enjoyable place that's not manufactured … it's not Augusta. We've gone through that stage of overcooking golf courses and we're going back to being more of a natural, well-maintained course."
Exposed sandy wasteland lines the rolling par-5 17th. PHOTO: Brendan James.
Going hand-in-hand with this couch restoration program was a clearing of vast tracts of near-impenetrable scrub bordering several fairways as well as some tree plantings that were detached from the natural bushland. This exposed the sandy land beneath and gave rise to vast tracts of wasteland as well as the addition of strategically-placed bunkering.
Bush regeneration across the course is closely monitored. Using historical photos as wells as GPS-mapping, selective trimming back to designated scrub zones has occurred.
"The areas that we have been clearing out are in places where we're allowed to in play areas," Sutherland said. "There are areas and boundaries that have been marked that we're not allowed into because the Eastern Suburbs Banksia is critically endangered.
"We're under the same constraints as a few other golf courses in the area, like NSW, Bonnie Doon and The Lakes.
"But the areas we are allowed to go into we have made that effort to select species to clear out and open up those areas that were clear historically."
That said, Wagner says this program has been very selective so as to not clear too much vegetation and rob the course of its fear factor … hitting your ball into the scrub.
"There has been a course architecture mindset in recent years to clear everything," Wagner said. "Listening to the average golfer who plays St. Michael's, one of the things that is really important here is the intimidation or fear factor … and people like that.
"So, it's that in between. You want to do clearing so that a ball hit a foot off line is not lost in scrub, but you don't want to lose that element of fear a player feels standing over a shot."
The change to couch fairways led to new greens surrounds and, more recently, the beginning of a green rebuilding program. Working with Centreline Golf Design's Ben Chambers, the club has seen eight greens completed and their surfaces converted from native bentgrass/Poa Annua to the impressive Pure Distinction bentgrass.
This is the same grass that has been successfully introduced at the highly-ranked Victoria and Peninsula Kingswood Golf Clubs in Melbourne and is incredible to putt on. In my opinion, it is the best bentgrass I have ever putted on.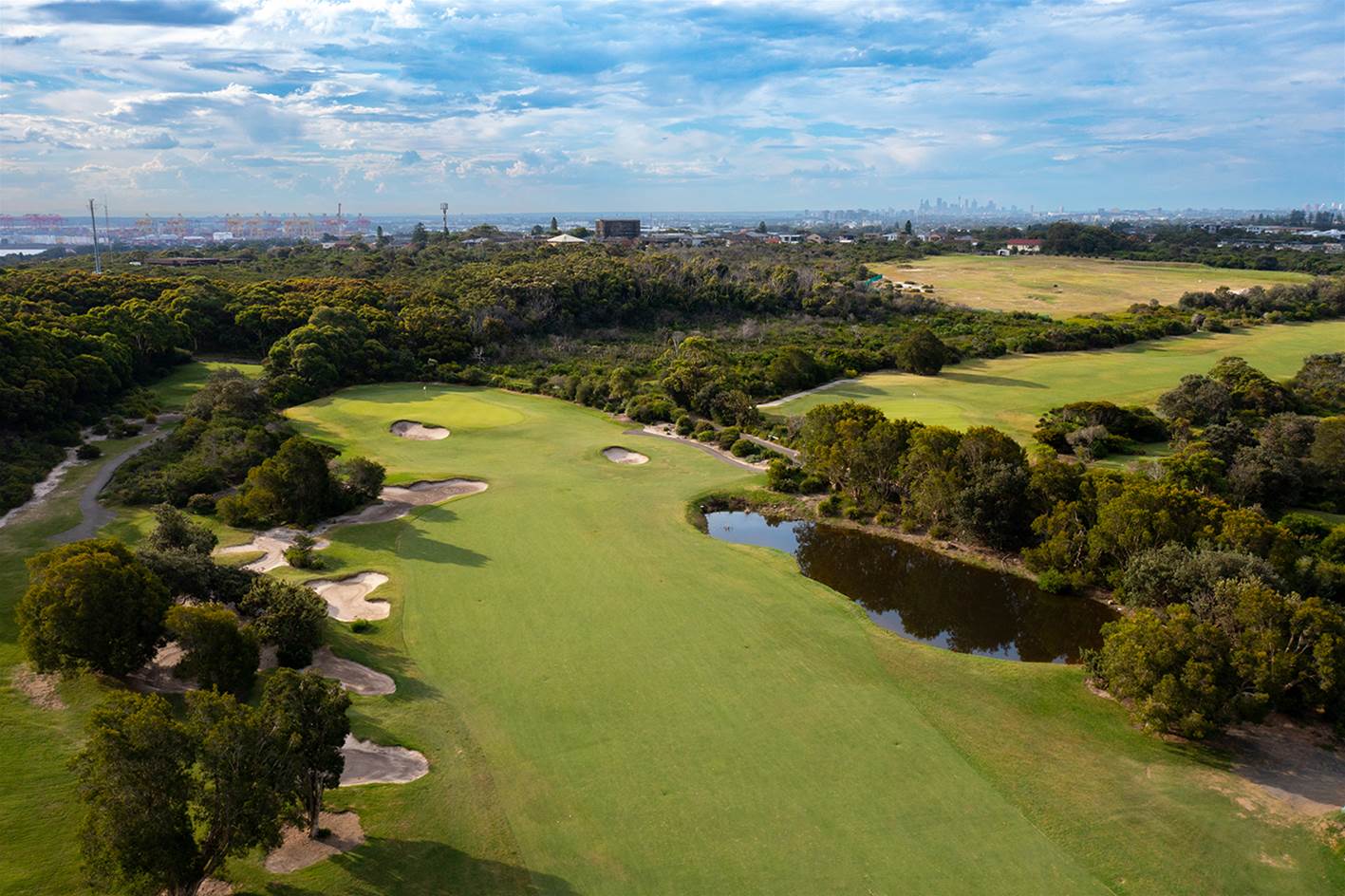 The testing short par-4 5th with the Sydney CBD skyline in the distance. PHOTO: Brendan James.
All of these changes really highlight the brilliant routing and design Moran and Cole put in the ground 84 years ago. A fact not lost on our Top-100 Courses judging panel.
St.Michael's achieved its highest-ever national ranking earlier this year when it reached No.61 in Golf Australia magazine's list – a jump of eight spots on its 2020 position, and 20 places higher than its rank in 2018.
"A terrific oceanside course with stunning views and equally stunning holes throughout. There has been a lot of course work carried out here during the past few years and all of it has been good. The clearing of areas of vegetation has made the playing corridors wider but this has not made St. Michael's any less challenging … especially in the wind," Top-100 judge, Lucas Andrews, said.
Panellist Brett Oldham added: "St. Michael's is always a fun experience. The stretch of holes from the par-3 12th to the  par-5 17th never fails to excite, especially when the wind is pumping from the south."
St. Michael's asks plenty of questions of your game during the round, whether it's on the tee or in the middle of the fairway. The 317-metre par-4 2nd hole gets you thinking from the moment you walk on the tee and spot the blind drive that awaits. The fairway here rises to a crest before turning right and slightly downhill towards one of the new green complexes, which is wider than its predecessor and features new bunkering short and long. I really liked the close-cut transition area between the back of the 2nd green and the walk to the 3rd tee.
"St. Michael's is starting to realise its enormous potential and, given the direction the club is steering its ship, this glistening gem is on track for higher honours in future ranking lists."
The best holes at St. Michael's cover some of the most dramatic landscape and the first of these is the 170-metre par-3 3rd hole that offers brilliant coastline views from the tee, which is cut into the side of a hill. The new green is perched on top of a steep hill on the other side of a valley of sand, scrub and deep grass. The challenge here is all about club selection and execution, especially on a windy day when your golfing instinct is to keep your tee shot as low as possible.
Two of the best picks on the back nine cover less undulating topography but are no less challenging. The 176-metre par-3 12th requires exact club selection to find the small, steep-sloping green, which sits on a slight diagonal to your approach. The putting surface is surrounded by six cavernous bunkers and two deep hollows making pars here well earned. A short-sided approach shot here will ultimately lead to a bogey or worse.
The 472-metre par-5 13th demands an accurate tee shot between a water hazard left and scrub-covered sand dunes to the right. In the prevailing southerly wind, the green is definitely reachable in two shots for the aggressive player but the second shot here is to a semi-blind green, bunkered left and right.
If you're seeking a signature hole at St. Michael's, it might be the 16th. It certainly offers up the signature shot. The drive at the 379-metre par-4 asks golfers to fire across 'Moran's Gully', a ravine so sinister and dense that it could swallow you as well as your golf ball should you attempt to locate a stray blow. The ideal tee shot bends from right to left with the riskier play down the left side affording a better line into the angled green, which features a sprawling bunker long and a menacing small pit to the right.
St. Michael's is starting to realise its enormous potential and, given the direction the club is steering its ship, this glistening gem is on track for higher honours in future ranking lists.
FACT FILE
LOCATION: Jennifer St, Little Bay.
CONTACT: (02) 9326 8000
WEBSITE: www.stmichaelsgolf.com.au
DESIGNERS: Michael Moran (1937); Charles Cole (1938); Green staff and Ben Chambers Centreline Golf (ongoing).
PLAYING SURFACES: Windsor Green couch (fairways), Poa Annua/bentgrass (10 greens), Pure Distinction bentgrass (eight greens).
PGA PROFESSIONALS: Chris Rose, John Serhan, Neil Sarkies.
COURSE SUPERINTENDENT: Lee Sutherland.
GREEN FEES: $120 (bookings advised).
MEMBERSHIPS: St. Michael's offers full playing memberships, while some other options are currently closed. Junior memberships are available on application.
St. Michael's caters for every age of golfer.
Long-term well-established male and female members make up a large contingency of the membership categories, however; the club is also fortunate to have a large group of young members ranging from 20 to 40 years. This younger brigade has embraced the social culture, but also taken upon themselves to assist the club to strategically plan for the future.
St. Michael's is very fortunate to have one of the best junior elite player programs in the country with several representative pennant flags won in recent years donning the walls of the club's hallway of fame.
ACCOLADES: Ranked No.61 in Golf Australia magazine's Top-100 Courses for 2022; Ranked No.23 in Golf Australia magazine's Top-100 Public Access Courses for 2021.
© Golf Australia. All rights reserved.