One of Australia's oldest clubs was given a new lease of life with the opening of a new modern layout nearly eight years ago. Today, it is cemented among the Top-100 Public Access Courses in Australia.
There has been no more learned person in Australian golf than Peter Thomson.
His articulate observations on the game have always had a passion for golf at their heart. No area of the game has gone unnoticed by the five-time Open Champion.
In particular, his views and theories on course architecture – gleaned over nearly five decades as a course designer – have been the foundation of more than 180 designed courses across 30 countries.
One of Thomson's last Australian designs before retiring last year can be found at Ballarat Golf Club – a club that originated in 1895 and remains Australia's oldest layout still played on part of the original course.
The fairways are cut right to the edge of the bunkers, making them more effective hazards. PHOTO: Brendan James.
With approval given to a large residential development adjoining the club, Thomson and design partner, Ross Perrett, were commissioned to create an almost completely new course, covering some of the original layout as well as new land adjacent to the property. The result of their work opened for play in 2009 and, almost immediately, gained a position in Australia's Top-100 Public Access Courses ranking. It has been there ever since.
When asked a few years ago what makes a good golf course, Thommo explained if a course was playable and enjoyable for all golfers it was one worthy of praise.
"Hardly anyone is about making courses more friendly, by giving relief to the less gifted in the form of more mown grass and fewer cavernous craters of sand, or of clearing unnecessary trees within the course boundaries to let in the light and air," Thomson said.
Subtle undulations are common right across the Ballarat course. PHOTO: Brendan James.
"If there is an art to golf course design, it is the achievement of making an 18-hole course a source of pleasure to all manner of golfers, from the best among us to the most inept. A course that is so difficult that the highest handicaps can't finish is a poor course."
Thomson and Perrett's work at Ballarat certainly gets a big tick for being a fun, yet challenging, layout for players of all abilities.
This is not a long course by modern standards. It stretches to 6,283 metres from the back pegs (5,817 from the members' tees), but Thomson and Perrett have ensured every club in the bag will get a run during the round and good scores will be born out of thinking smart from tee to green.
The designers haven't taken the driver completely out of the hands of players but – with the strategic positioning of bunkers, rough or water – they leave you open to the suggestion of a better option. Smart play is always rewarded here, where poorly executed aggressive play is penalised.
Ballarat's bunkering, although plentiful, is not ominous and won't cost you too many shots. PHOTO: Brendan James.
Adding to the challenge of playing this design is one constant – wind. There always seems to be a breeze here, which adds to the variety of shots you will have to play, especially when you consider all holes have been routed to run to all points of the compass.
Of note, though, is the great collection of short par-4 holes. The first of these is the 319-metre par-4 3rd, which plays slightly downhill from the tee and is flanked by out-of-bounds to the left for its entire length. The rough-covered mounds down the right cut into the fairway, creating a wide tongue of rough that has been filled with a bunker, about 240 metres from the back tee. The best approach to the shallow green is from the right half of the fairway so players are left with two playing line options – play short of the fairway trap and make a longer approach, or be aggressive and bomb a drive over the left edge of the bunker and leave a short iron into the putting surface.
Thomson and Perrett's work at Ballarat certainly gets a big tick for being a fun, yet challenging, layout for players of all abilities.
The following hole, a 358-metre par-4, is also worthy of mention here. It only plays about 40 metres longer than the 3rd hole but it is a far more demanding offering with water, sand and two majestic gum trees providing the defense of par. The fairway gently rises and falls over waves of small hills and narrows significantly as it squeezes past a sole bunker cut in from the right rough and lying right in the driving zone. The two gums, while wide of the fairway, can block out any approach that veers too wide of being in the centre of the fairway. The best line into the green is from the right half of the fairway, which features plenty of mounds and hollows, making a flat lie quite rare. There are no greenside bunkers, as the green is slightly elevated, with water left and swales to the right.
The 298-metre 12th hole is arguably the best of Ballarat's strategic short par-4s. PHOTO: Brendan James.
Another hole that is a tough proposition and demands smart play instead of brutish hitting opens the back nine. The 471-metre 10th hole could be considered a short par-5 by modern design standards but it is a genuine three-shot par-5 for most players. The out-of-bounds well left of the fairway is not of primary concern to players here … keeping your ball dry on the journey to the green is the real worry. The first of two creek crossings lies just 240 metres (it's about a 260-metre carry from the back pegs) from the tee, which means any player with sights on reaching the green in two blows needs to be as close to this water as possible. This is a tough ask as the fairway starts sloping down to the water's edge from about the 220-metre mark. By far the best approach into the angled-right green is from the left half of the fairway.
If, like me, you can't possibly hit two shots nearly half a kilometre, it's best to lay up left (well away from the lake that lines the right edge of the fairway) and short of the second 'burn'. This, however, brings a large fairway bunker on the left edge of the fairway into play. Avoid the sand and you will be left with an 8- or 9-iron or even a wedge (depending on the pin position on the massive green) for your third shot.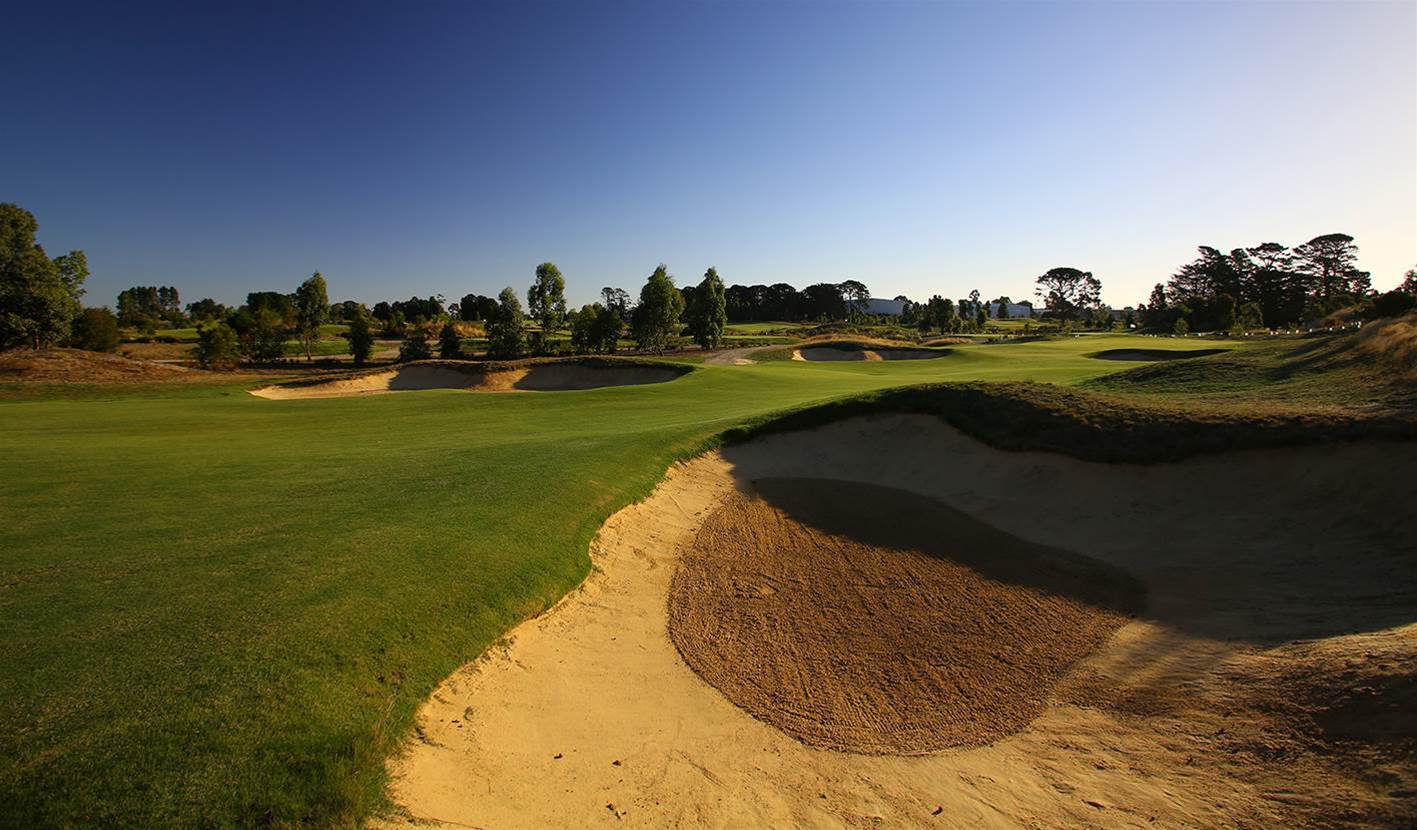 The tight approach into the short par-4 16th. PHOTO: Brendan James.
I have been fortunate enough to play Ballarat several times since it opened nearly eight years ago and it has matured nicely beyond the usual 'honeymoon' period for a new course, particularly in terms of presentation.
Given the climatic extremes that can be experienced in Ballarat from the depths of winter through to the highs of summer, the playing surfaces have adapted quite well to their environment … which ticks another box as far as Thomson is concerned when it comes to producing a course of integrity.
"As for golf courses of integrity, I know this is an unusual word, but to me, it means strength of features, proper dimensions, which give an obvious look of a golf course, not too many trees, but enough for the enhancement of bird life and habitat without interfering too much with the golf," Thomson once said. "Add to this a high standard of maintenance, which may well be the most important thing of all."   
FACT FILE
THE COURSE
LOCATION: Sturt St, West Ballarat.
CONTACT: (03) 5338 3000.
WEBSITE: www.ballaratgolfclub.com.au
DESIGNERS: Peter Thomson & Ross Perrett (2009).
PLAYING SURFACES: Santa Ana couch (fairways), G2 bentgrass (greens & surrounds), fine fescues including Sheep's and Creeping
Red (rough).
COURSE SUPERINTENDENT: Jeff Powell.
PGA PROFESSIONAL: David Wallis (head professional), Angela Tatt and Darren Bowman.
GREEN FEES: $30 (weekdays), $40 (weekends); carts $40.
THE CLUB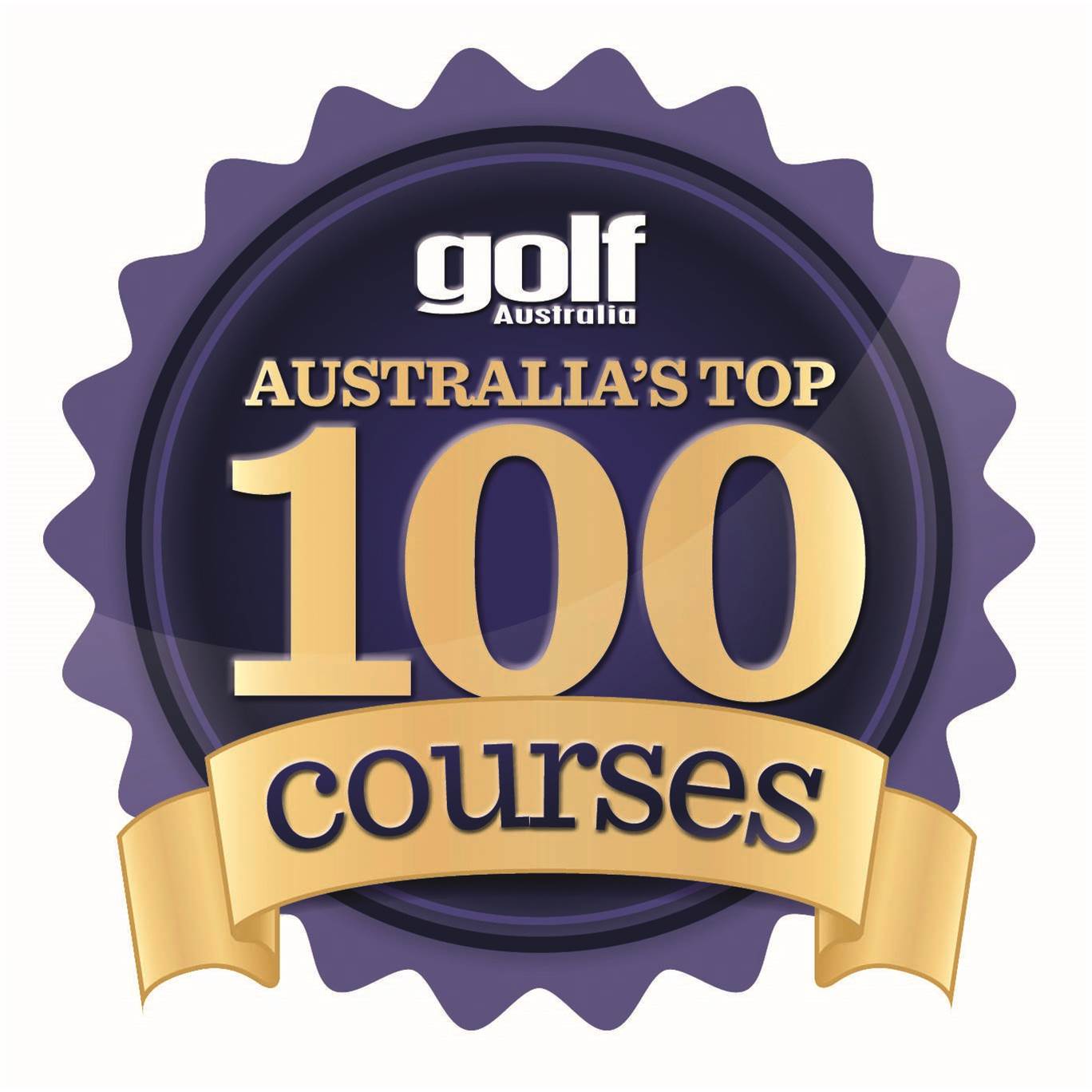 MEMBERSHIPS: Ballarat offers various memberships that have been created to suit the needs of a range of golfers. From limited memberships starting from around $340 a year to full seven-day memberships there is a membership to suit every golfer. If you are thinking of becoming a member call (03) 5338 3000.
CORPORATE GOLF: The club will work directly with corporate day clients to provide a great experience before, during and after your event.
PLAY & STAY PACKAGES: The Bell Tower Motel is located across the road from the course and offers quality accommodation along with an indoor pool and spa, gymnasium and restaurant. The motel offers a one night accommodation package from $215 per room, which includes breakfast and a round of golf for two people.
FACILITIES: The club and MIA Sports Technologies collaborated to open regional Victoria's only Tech Centre, adjoining the pro shop. The centre includes fixed high-speed video cameras and GASP teaching software. Incorporating both swing and putting analysis through Flightscope and Sam Putt Lab, players can experience a high level of ball trajectory measurement and tracking.
© Golf Australia. All rights reserved.